MOSCOW, June 27 (RIA Novosti) - The Russian government has submitted to parliament its bill providing additional grounds for unscheduled checks of non-governmental organizations (NGOs), the lower house of the Russian parliament, the State Duma, said on Wednesday.
Under the bill, grounds for surprise inspections of NGOs would include the failure to rectify infringements by a deadline previously set by an authorized agency, complaints by individuals and legal entities, and information provided by government agencies, local authorities and the media about alleged elements of extremism in the operation of NGOs, as well as information about violations of legislation by NGOs from federal and local authorities.
Unscheduled inspections can also be ordered by the heads of authorized agencies and requested by prosecutors and election commissions.
The Russian Public Chamber will convene to discuss the bill on July 1, its press service said.
"We have invited and hope to hear opinions of Justice Ministry officials, lawmakers and representatives of the non-commercial sector," Public Chamber member Darya Miloslavskaya said.
"Frankly, I can say that it's not the best time to adopt such amendments. NGOs are yet to recover from large-scale prosecutor inspections, and extending the basis for unscheduled checks will definitely not play a positive role for the civil society development," she said.
© RIA Novosti
What Changes Lie in Store for Non-Profit Organizations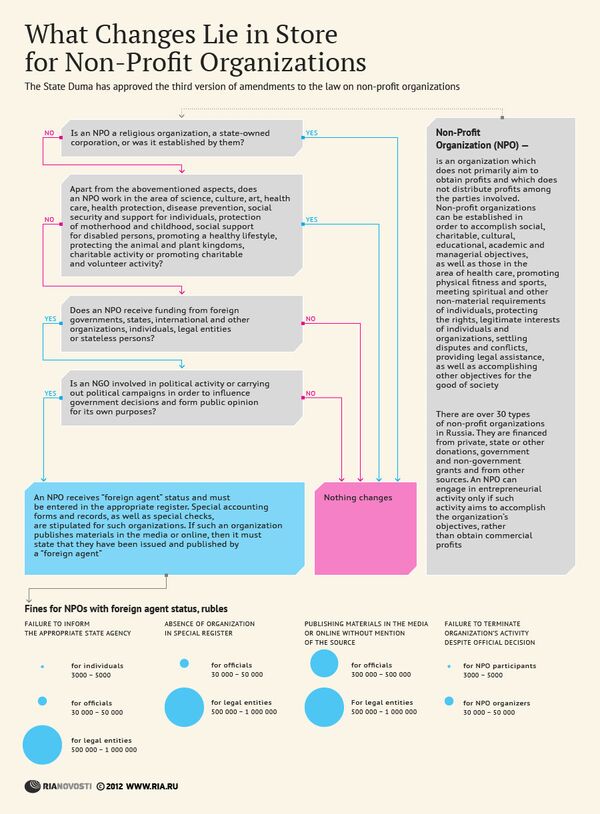 What Changes Lie in Store for Non-Profit Organizations
Nationwide inspections of NGOs have been taking place in Russia since March. The Justice Ministry said the goal was to check if their activities were in line with legislation and corresponded with the objectives of their charters.
Many observers have linked them to a new law introduced last November which tightens control on NGOs and obliges those that are engaged in political activity and receive foreign funding to register as "foreign agents."
The NGO community in Russia has resisted the law, with many organizations refusing to register as "foreign agents," claiming it will force them to close down.
The law has already been used against polling organizations, wildlife sanctuary trusts and public health support NGOs.
The government insists the law is a necessary measure to prevent foreign meddling in Russia's public life.