MOSCOW, June 28 (RIA Novosti) – A radical Russian nationalist gang that blatantly calls itself the Autonomous Militant Terrorist Organization is now officially acknowledged as such and is outlawed, a Moscow court ruled Friday.
The group has been implicated in a series of crimes, including bombing and setting fire to police stations, an office of Russia's Federal Security Service (a successor agency to the Soviet KGB), as well as retail kiosks staffed by foreigners. At least 10 people affiliated with the gang have been prosecuted.
A lawyer for the group, whose leader is sitting in jail on a 12 1/2-year sentence for terrorism, had insisted that the Moscow City Court could not ban the group because it had not been officially registered. The court, however, disagreed with that claim and ruled to forbid participation in the group anywhere in Russia, the RAPSI legal news service reported.
© RIA Novosti
Countries with greatest risk of terrorism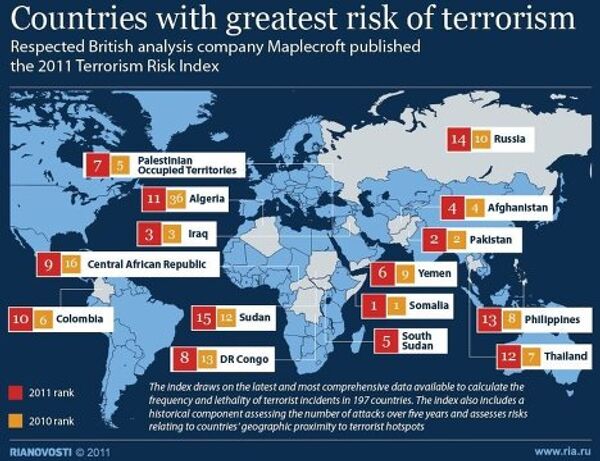 Countries with greatest risk of terrorism