MOSCOW, June 28 (RIA Novosti) – The father of fugitive former CIA employee Edward Snowden, believed to be in hiding in Russia's Sheremetyevo airport, has said that his son is not a traitor and could return to the United States if he received certain guarantees, according to the US TV network NBC.
Snowden, whose US passport has been revoked, is wanted by Washington on espionage and theft charges following his leak of details of US state surveillance programs to the media earlier this month.
"If folks want to classify him as a traitor, in fact he has betrayed his government. But I don't believe that he's betrayed the people of the United States," Edward Snowden's father, Lonnie Snowden, said in an interview with NBC aired Friday. "I don't feel that he's committed treason."
His father, who said that he had not spoken with his son since April, was quoted by NBC as saying he believes the former National Security Agency contractor would return home if the US Justice Department promised not to detain him before a trial or issue a gagging order, and if it allowed his son to choose where the trial would take place.
"I don't want to put him in peril, but I am concerned about those who surround him," Lonnie Snowden said, in an apparent reference to anti-secrecy organization WikiLeaks.
© Sputnik
Hunting Down Edward J. Snowden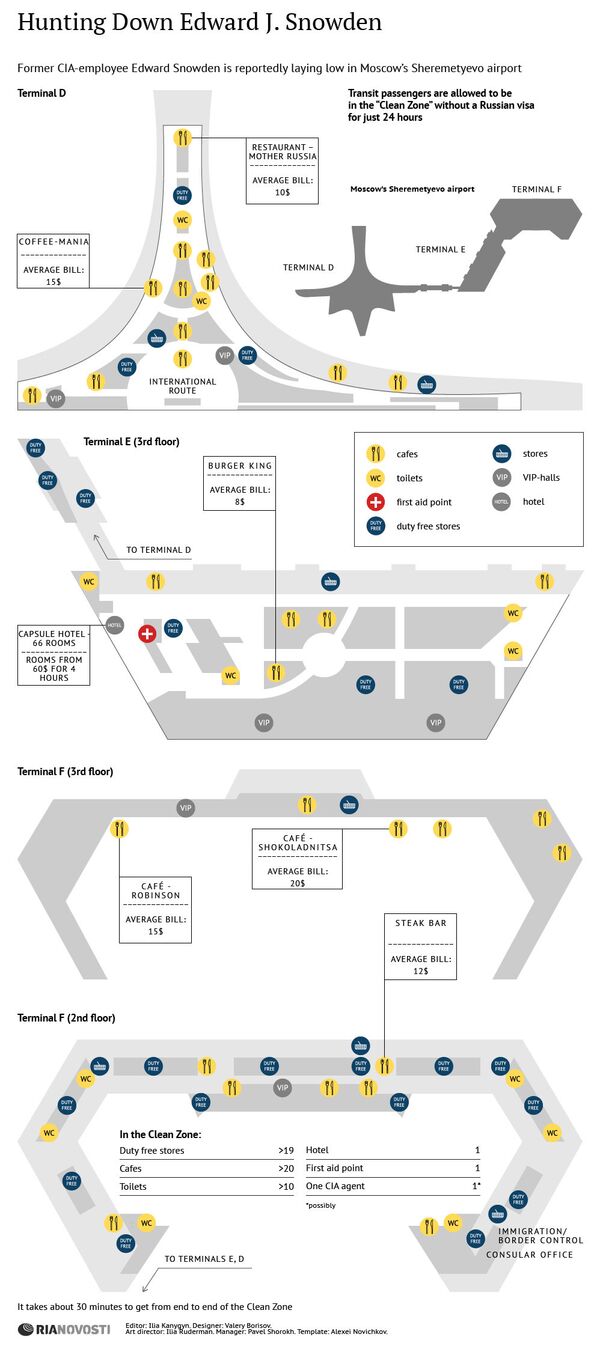 Hunting Down Edward J. Snowden
WikiLeaks has said that Edward Snowden is being accompanied by one of its representatives, Sarah Harrison, who reportedly flew with him from Hong Kong to Moscow on Sunday and remains by his side. Snowden is believed to have remained in the transit zone of Sheremetyevo airport ever since his arrival.