MOSCOW, July 1 (RIA Novosti) – Russian lawmakers and officials voiced support for fugitive US intelligence contractor Edward Snowden at a round table meeting in the Public Chamber on Monday, in contrast to muted comments by the Kremlin's spokesperson who has said that Snowden is "not on the Kremlin's agenda."
The head of Russia's Presidential Human Rights Council, Mikhail Fedotov, on Monday told the Public Chamber round table "I am convinced that, if Snowden was acting in the public interest, then society is obliged to protect him."
Speaking to the Echo Moskvy radio station on Sunday, however, Kremlin spokesperson Dmitry Peskov reiterated the comments President Putin made last week that Snowden has not crossed Russia's state border. "This subject is consequently not on the Kremlin's agenda," Peskov said.
Edward Snowden, who reportedly served with the US Army and CIA before working as an intelligence contractor for the US National Security Agency and is wanted by the US for leaking state secrets, is believed to have arrived in Moscow's Sheremetyevo Airport a week ago. The transit area is technically not considered Russian soil, but his reported presence in a Moscow airport risks exacerbating tensions in Russia-US relations.
Some members of Russia's lower house of parliament, the State Duma, have voiced their support for Snowden, with United Russia representative Alexander Sidyakin saying that Snowden is a worthy candidate for the Nobel Peace Prize.
© Sputnik
Hunting Down Edward J. Snowden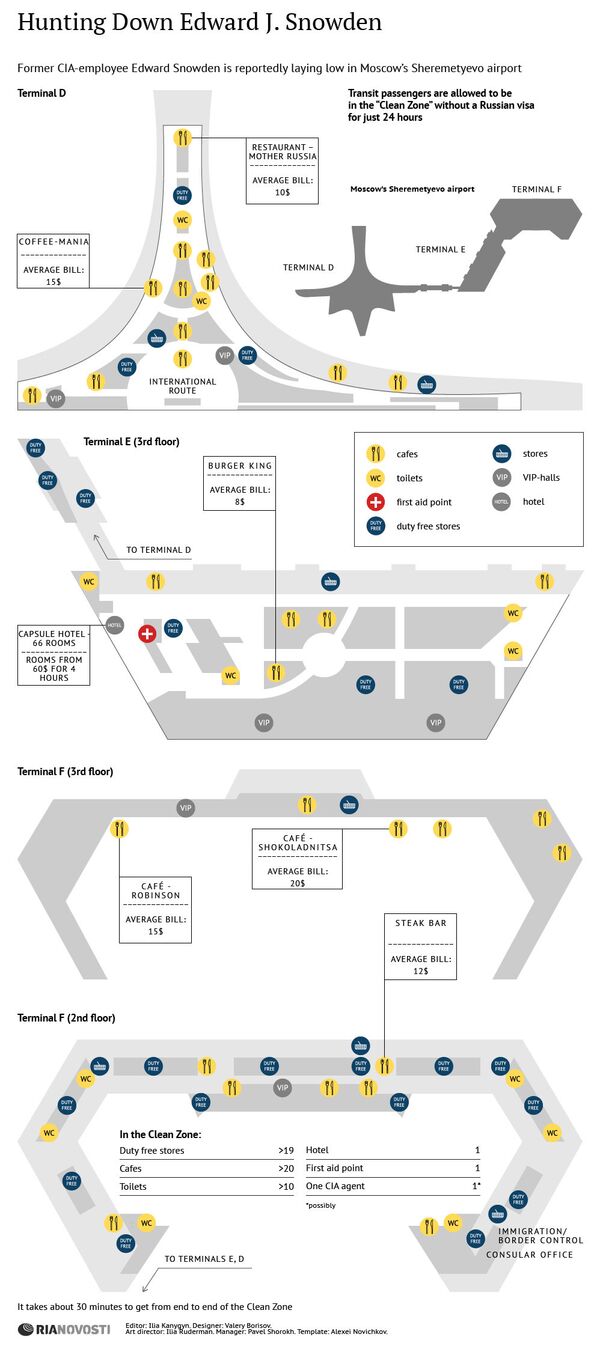 Hunting Down Edward J. Snowden
Lawmaker and first deputy chair of the State Duma's International Relations Committee Svetlana Zhurova drew attention to what she called the "humanitarian component" regarding the possibility of Snowden being arrested in Russia and handed over to the United States.
Zhurova highlighted the fact that, since Snowden acted in the public interest, "public opinion on this issue is very important," and was one of those to say that Snowden could potentially face the death penalty if he returned to the United States.
The Public Chamber's Deputy Secretary Vladislav Grib said "the Russian authorities do not have any grounds to arrest him or hand him over to the United States," adding "it is clear that the US is violating human rights en masse, and that this violation takes place on a global scale."
Public Chamber member Sergei Ordzhonikidze stressed that Snowden had "simply raised an issue that is of concern to people across the world."
"Snowden did not violate Russian law, and so we have no grounds to arrest him or hand him over," Ordzhonikidze said, stressing that Russia is legally bound not to hand people over to countries where the death penatly is used.