ROSTOV-ON-DON, July 7 (RIA Novosti) - Exactly a year after a devastating flood hit the southern Russian city of Krymsk, a monument was unveiled in memory of 153 residents killed in the disaster, the city administration said.
"This monument will become a symbol of memory and grief… We have chosen the site for this memorial together, so that everyone could come, bring flowers and pay tributes to all those killed," regional head Anatoly Razumeyev said.
The construction of the memorial was financed by private donations. Russian sculptor Alan Kornayev volunteered to create it. The monument is a 5.5-meter wall with a bronze statue of a crying woman, surrounded by memorial plaques bearing the names of the victims.
By the end of the year, the city also plans to install a memorial marking the highest water level during the flood.
The floods, which swept through three cities in southern Russia, including Krymsk, on July 6-7, killed 171 people in total and submerged 7,000 homes, causing massive damage to the gas, electricity and water supplies, as well as roads and rail links. More than 60,000 people were affected by the disaster.
© RIA Novosti
Floods in Kuban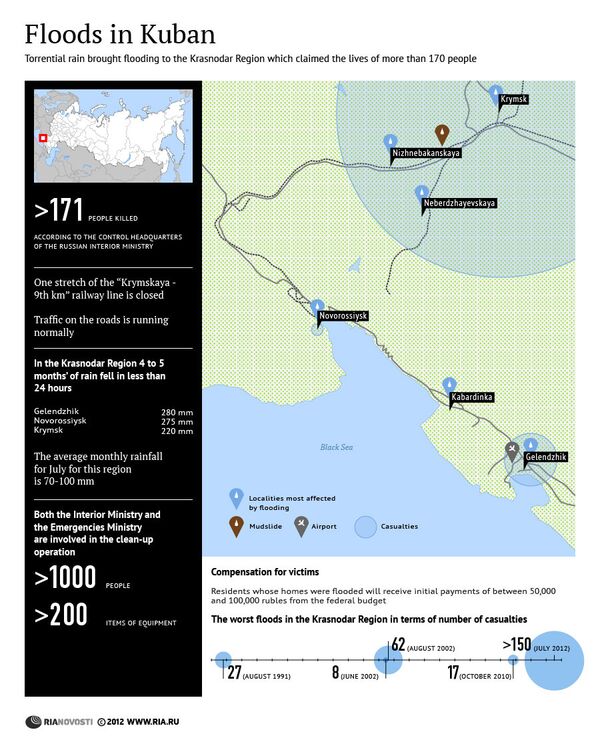 Floods in Kuban
The Regional Development Ministry said in April a total of 20 billion rubles (around $660 million) will be spent on relief and reconstruction efforts in the flood-ravaged area, in addition to 15 billion rubles (some $481 million) already allocated.
An end-of-year poll by the independent Levada Center pollster found that 30 percent of Russians believe the Krymsk flooding was the most important event of 2012, surpassing Putin's re-election to the presidency (29 percent) and the scandal over punk group Pussy Riot (13 percent).