TOKYO, July 9 (RIA Novosti) - Radioactive cesium levels in one of the observation wells at the crippled Fukushima Daiichi nuclear power plant in north-east Japan have jumped up 90 times over the past 3 days, the NHK television said Tuesday.
NHK cited a report from Tokyo Electric Power Company, the plant's operator, saying that "9,000 becquerels of cesium 134 and 18,000 becquerels of cesium 137 per liter of water at a well between the No. 2 reactor building and the sea" were recorded on Monday.
TEPCO experts have been unable so far to determine the cause of the sudden rise in cesium levels, or to assess the impact of the spike on the nearby ocean.
In addition, seawater in the port next to the Fukushima plant has been showing increasing levels of radioactive tritium since May, the company said.
Fukushima NPP was partially destroyed in March 2011, when Japan was hit by a massive 9.0-magnitude quake and ensuing tsunami, claiming over 15,000 lives and triggering a number of explosions at the plant.
Water decontamination at Fukushima nuclear power plant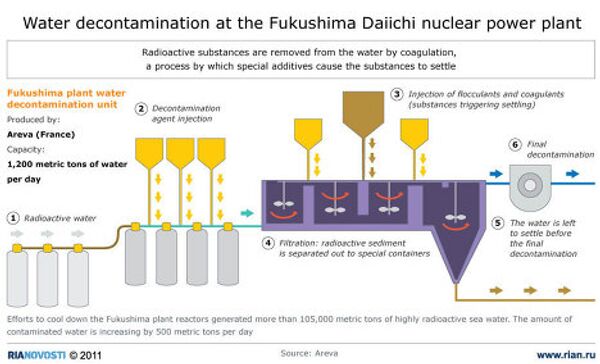 Water decontamination at Fukushima nuclear power plant
The tsunami caused a partial meltdown at three of the nuclear plant's reactors. Radiation leaked into the atmosphere, soil and seawater, making the accident the world's worst nuclear disaster after Chernobyl.
Japan will need at least 40 years to recover fully from the nuclear catastrophe, scientists say.
Some 315,000 victims are still living in a temporary housing unable to return to their houses in the plant's vicinity.