NEW YORK, July 10 (By Maria Young for RIA Novosti) – To the untrained eye, ballet is a dance of the feet, the toes to be precise. But to veteran Bolshoi Academy instructor Irina Syrova, it is a dance of the spirit that transcends perfection and skill.
Bolshoi ballet is "a 'flight of the soul,' it's not just technique," Syrova said before a recent class, speaking through an interpreter and offering apologies for borrowing an oft-used quote from Russian poet Alexander Pushkin.
Along with the necessary skills, it is this elusive distinction that Syrova and nearly a dozen other instructors from the world-renowned Bolshoi Ballet Academy in Moscow are working to impart this summer to a lucky handful of budding ballerinas from across the United States.
"It's a high professional level, knowledge of classical ballet and good looks, but apart from that the person shouldn't be empty. She has to have an inner world that she wants to share with others, an individuality… something that they can give to the audience," Syrova told RIA Novosti.
"Da! Da!" she called approvingly to a studio full of nervous students practicing a new routine with seeming ease, their toes stepping gracefully in sync, arms carefully arced just so.
Clapping her hands to the beat of the live piano music coming from a corner of the room, Syrova added in halting English, "With smiles, please."
© RIA Novosti . Maria Young
Bolshoi Ballet instruction includes work on upper body and facial expressions.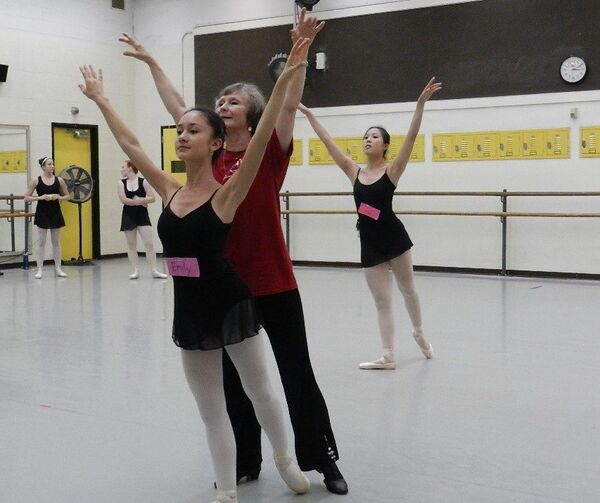 Bolshoi Ballet instruction includes work on upper body and facial expressions.
© RIA Novosti . Maria Young
"Russian ballet is definitely very prestigious because they work so much on presentation and the upper body, and they incorporate the face so much in dancing, which a lot of American students and teachers do not," said 17-year-old Riana Erickson, a rising New York high school senior who has studied ballet for nine years.
"Russian technique is so expressive in the upper body, which is really different from other techniques but it's so important because it's a performing art," she added.
Students were chosen through a series of highly competitive auditions to study under Bolshoi veterans at the Bolshoi Ballet Academy Summer Intensives (BBASI) in New York and Connecticut. 
The program started with just 10 students and two instructors in 2007, a joint effort between the nonprofit Russian American Foundation (RAF) in New York and the Bolshoi Ballet Academy in Moscow. 
"At first there were lots of misconceptions, because in Russia the students are taken from the age of nine and their whole life becomes nothing but ballet, so I think there was the fear the instructors might not take American dancers as seriously, and families were very hesitant to allow their children to train with instructors from Russia," said RAF vice president and co-founder Rina Kirshner.
"I was scared to death walking into my first class because I was so worried that my teacher would yell at me and she would, like, hit me a little bit to get my legs to move faster. But it wasn't like that at all, they're really driven for you," said Erickson. 
© RIA Novosti . Maria Young
Riana Erickson has studied ballet for eight years.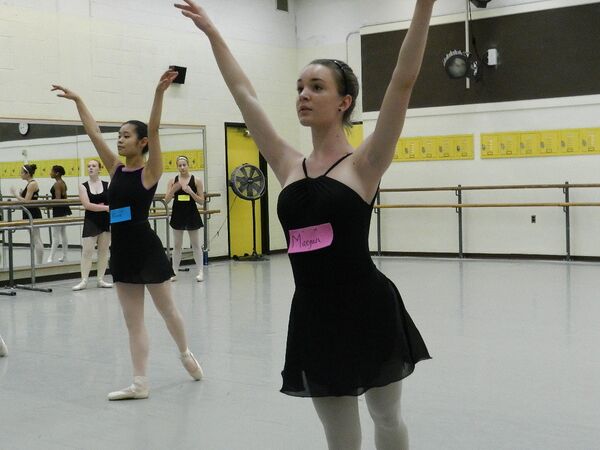 Riana Erickson has studied ballet for eight years.
© RIA Novosti . Maria Young
"They don't yell but they want to get it right so they make you do it over and over again," she added, smiling. 
Today there are 11 instructors and well over a hundred students chosen from more than a thousand hopefuls who auditioned in 16 states and sent in videos from other states and even other countries.
Many of them have dreams of careers on stage and on point, careers like that of Texas native Joy Womack, a BBASI trainee for several years who was the first American to graduate from the Bolshoi Ballet Academy and last year became the first American woman to sign a contract with the Bolshoi Ballet.
"We believe we've broken the stereotypes of American dancers not being able to prove themselves," said Kirshner.
In addition to the BBASI program in New York and Connecticut, 15 lucky students – including Erickson and classmate Natalie Hills – have also been offered a chance to go to Moscow for part of the summer to study ballet at the Bolshoi, as well as Russian culture and language immersion through a US-funded National Security for Language Initiative for Youth (NSLI-Y) program. 
At summer's end, 10 of the students will be invited to enroll in the Bolshoi Academy for the academic year.
"I'm interested in Russia, although I don't know much about it, mostly related to the Cold War, which I know is such a biased view here in the United States," said Hills, 17, who has studied ballet since she was three.
"I'm definitely nervous to go into another country that I don't know much about, but I'm really interested in other cultures from their perspectives," she added.
The BBASI program has tremendous value for both countries, and even for students who don't envision a prestigious dancing career on the revered Bolshoi stage, said Syrova. 
"To get into such a theater - it's a dream, and very often an impossible one, not only for American and foreign students, but for Russian students as well," she said. "The program is important because when young people establish contact that gives us the prospect of a good future."