MOSCOW, August 9 (RIA Novosti) – Russia has postponed the delivery of a batch of S-300 missile defense systems to Syria, despite having received advance payment, a prominent Russian newspaper reported Friday.
The delivery, originally scheduled for spring 2013, has been pushed back to June 2014, Vedomosti business daily said, citing an annual report by the Moscow-based company Avangard, which manufactures rockets for S-300 systems.
The Avangard report – unavailable on the company's website at the time of this article's publication – covered only the second of two Syria-bound S-300 shipments on the cards with Russia's state-run arms exports monopoly, Rosoboronexport.
Vedomosti cited unnamed defense industry sources as saying the first batch of S-300 missile defense systems for Syria had been produced, but not delivered, while work on the second batch had been postponed, even though Russia has received "hundreds of millions of dollars" in advance payments from Damascus.
An Avangard spokesman could not be reached for comment Monday.
Syria reportedly contracted Russia in 2011 to produce four S-300 systems for a price tag of $1 billion. Russian President Vladimir Putin confirmed in June a deal had been signed, but said Russia had not shipped the weapons out of fear of disrupting "the power balance in the region."
The S-300 is a state-of-the-art missile defense system capable of intercepting aircraft and ballistic missiles. It is largely useless for the civil war that the Syrian government has been waging since 2011 because the Syrian rebels have no air force, but could be used in the event that Western powers opposed to the regime of Syrian President Bashar Assad try to instill a no-fly zone over the country like they did during the civil war in Libya in 2011.
© Sputnik
The S-300-P surface-to-air missile system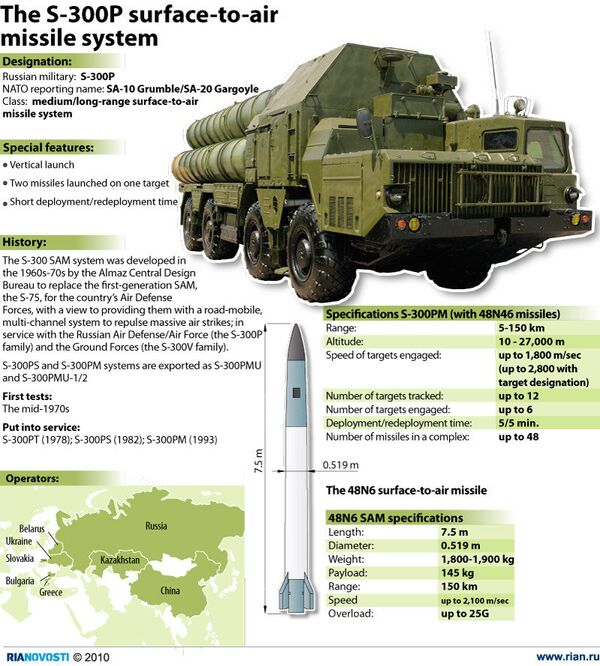 The S-300-P surface-to-air missile system
The Syrian regime has not complained about the delayed shipments and is unlikely to do so because it fears antagonizing Moscow, its main international ally, a source at Rosoboronexport was cited by Vedomosti as saying.