MOSCOW, August 19 (RIA Novosti) - The Sukhoi aircraft maker has signed a 1.5 billion ruble ($47 million) contract for the delivery of 184 friend-or-foe transponders for its Su-34 fighter-bombers, the equipment supplier said Monday.
The transponders will be manufactured by the Kazan-based Radiopribor holding company and delivered by 2020, Radiopribor deputy general director Igor Nasenkov said.
The company has also signed a 1.2 billion ruble contract for 1,080 portable surface-to-air missile system transponders, he said.
A transponder (transmit-responder) sends a signal back to an interrogator system, usually on radio frequencies, to confirm that it belongs to a friendly unit.
The Russian Air Force is due to receive a total of 124 Su-34s by 2020. A two-seat derivative of the Su-27 fighter, the Su-34 can carry a payload of up to eight tons of precision-guided weapons over 4,000 kilometers (2,500 miles). The aircraft will eventually replace all of the ageing Su-24 strike aircraft in service with the Air Force and Navy.
© RIA Novosti
Russian Air Force to adopt Su-34 "flying tank"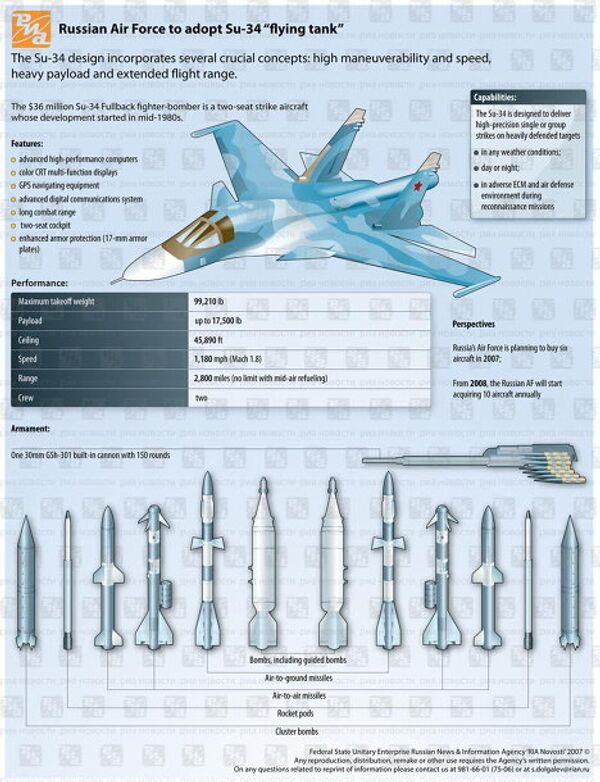 Russian Air Force to adopt Su-34 "flying tank"