MOSCOW, August 23 (RIA Novosti) – Three senior managers at Russia's Khrunichev space company were dismissed over a Proton-M space rocket's crash last month, Deputy Prime Minister Dmitry Rogozin said Friday.
The Khrunichev-made rocket, carrying three satellites for the Glonass positioning system, Russia's rival to the United States' GPS, fell to the ground in flames shortly after blastoff on July 2.
Russia's space agency, Roscosmos, determined that the crash occurred because the rocket's angular velocity sensors were installed upside down, causing the craft to veer off course. The combined cost of the lost rocket and satellites was estimated at $135 million.
Rogozin said Friday that the deputy general director of quality control and management at Khrunichev, Alexander Kobzar, the head of final assembly, Valery Grekov, and the chief of the technical control department, Mikhail Lebedev, had been dismissed for "inappropriate fulfillment of duties during the production and preparation of the Proton-M."
He added that a special state commission would present a final report on the Proton-M crash "in about a month, sometime after September 20." The responsibility for the crash among the staff and management of Roscosmos is to be determined after the report is presented to Prime Minister Dmitry Medvedev.
© Sputnik
Losses from Failed Roscosmos Launches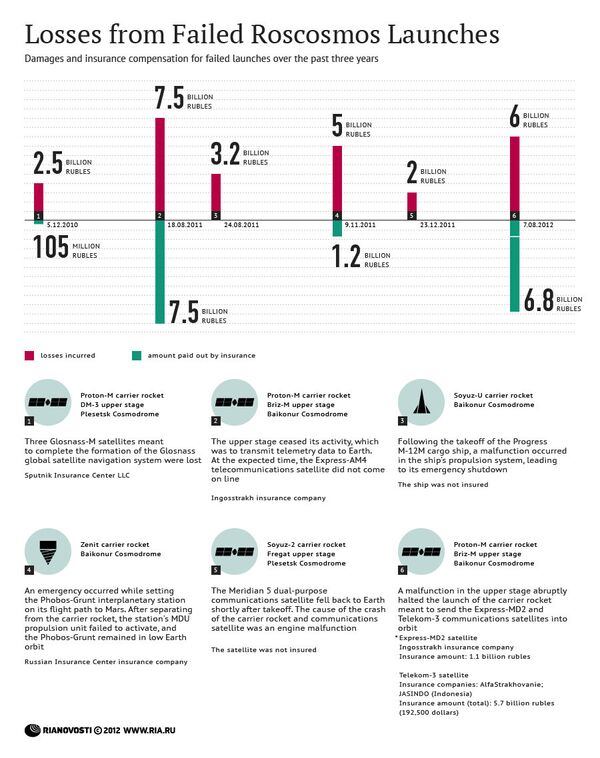 Losses from Failed Roscosmos Launches