TOLUCA (Mexico), August 23 (RIA Novosti) – Mexico's Interjet airline will start commercial flights using Russian-made Sukhoi SuperJet-100 aircraft in September, the Mexican company has said.
"First we will use them in our domestic flights, and then in international ones," Interjet Executive Director Miguel Aleman Magnani said during an official launch event for the aircraft in Toluca, Mexico on Thursday.
The Mexican airliner has signed a contract with Superjet International worth $800 million to purchase 20 Superjet planes and has taken up an option to buy another 10 aircraft, he said.
SuperJet International CEO Nazario Cauceglia said the Mexico deal opens up more opportunities for SuperJet-100 on the western market. "Interjet is very important to us, we have done a lot in this short period," Cauceglia said.
Jose Luis Garza, Director General of Interjet, said the certification process that a plane needs to go through in order to be used for commercial flights requires it completes 100 hours of flight. "Two aircraft are already here, and we will get another 18 within 17 or 18 months," Garza said.
The president of Sukhoi Civil Aircraft Company, Andrei Kalinovsky, said a total of eight new aircraft will be delivered to Mexico this year.
The SuperJet-100 (SSJ-100)is a short-to-medium haul passenger aircraft developed by Sukhoi in cooperation with US and European aviation corporations including Boeing, Snecma, Thales, Messier Dowty, Liebherr Aerospace and Honeywell.
© Sputnik
Modern Aircraft safety using Sukhoi Superjet 100 as an example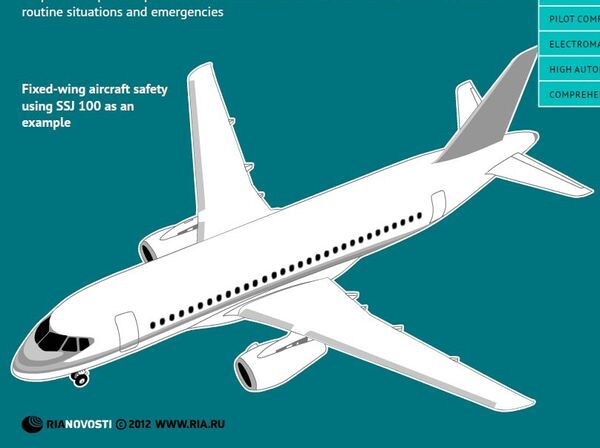 Modern Aircraft safety using Sukhoi Superjet 100 as an example
The aircraft is capable of carrying up to 100 passengers for up to 4,500 kilometers. The SSJ-100 had a series of accidents in recent years. The biggest one was in May 2012 when an SSJ-100 crashed into a mountain south of Jakarta while performing a demonstration flight in Indonesia with 45 people onboard. No one survived the crash.