PARIS, September 2 (RIA Novosti) – Syrian President Bashar Assad has dismissed claims that his regime used chemical weapons against civilians.
"Everyone who brings charges must submit proof. … Mr. [Barack] Obama and Mr. [Francois] Hollande have failed to do that, including in the face of their nations," Assad said in an interview published Monday by French newspaper Le Figaro.
The Syrian leader also said it would be illogical if his regime used weapons of mass destruction in an area where its own "soldiers were affected, as UN experts established during a visit to a hospital where they [the soldiers] are treated."
US President Barack Obama said Saturday that his country was considering a "limited" attack in Syria. According to the United Nations, more than 100,000 people have already died in the two-year civil war.
The United States on Friday released a report saying Syria's government was responsible for a chemical attack that purportedly killed hundreds of civilians in a Damascus suburb on August 21. The Syrian regime has consistently denied the allegation.
France would become Syria's enemy if it pursued a hostile policy toward Damascus, Assad also said, adding that any state that "contributes to financial and military reinforcement of terrorists" was an enemy of the Syrian people.
Reuters cited an undisclosed French government source on Monday as saying France had evidence that forces loyal to Assad had carried out the August 21 attack.
© RIA Novosti
Forces Preparing for Possible Strike on Syria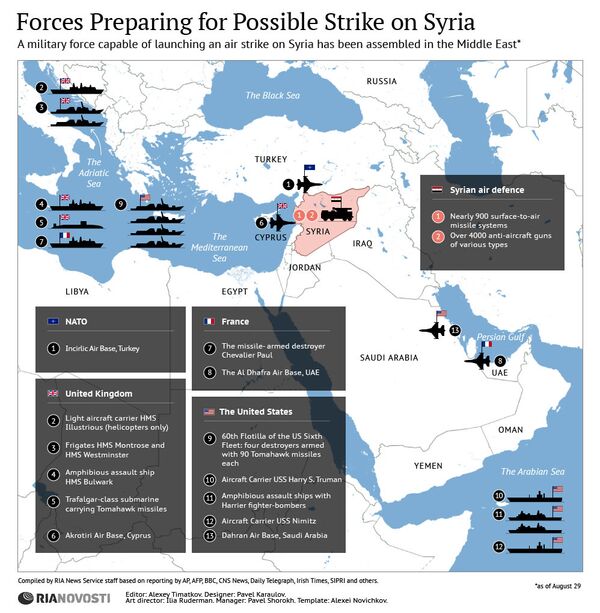 Forces Preparing for Possible Strike on Syria