NOVO-OGARYOVO, September 3 (RIA Novosti) – Armenia is ready to join the Moscow-led Customs Union of Russia, Belarus and Kazakhstan and later take part in establishing the Eurasian Economic Union, Armenia's president said in a statement Tuesday.
"Armenian President Serzh Sargsyan voiced Armenia's decision to join the Customs Union and take the relevant required practical steps, and later participate in forming the Eurasian Economic Union," said the statement, jointly issued by the administrations of Sargsyan and Russian President Vladimir Putin after they met for talks.
Putin backed Armenia's decision and "expressed the Russian side's readiness to contribute to the process in every possible way," the statement said.
Moscow hopes all members of the Customs Union would back Yerevan's decision to join it, Russian Foreign Minister Sergei Lavrov said Tuesday.
Russia, Belarus and Kazakhstan have agreed to establish the proposed Eurasian Economic Union by 2015. The union is intended as an alternative to the European Union that will be mostly comprised of former Soviet republics.
At a time when Armenia is choosing between EU and Eurasian integration, there appear to be certain contentions between Moscow and Yerevan, including Russia's raising of natural gas rates and planned weapons deliveries to Azerbaijan, with which Armenia is at loggerheads over the disputed Nagorno-Karabakh region.
Relations between Armenia and Azerbaijan have been strained for more than two decades, since the conflict over Nagorno-Karabakh, a predominantly ethnic Armenian region, first erupted in 1988. The region then claimed independence from Azerbaijan to join Armenia.
Over 30,000 people are estimated to have died on both sides between 1988 and 1994, when a ceasefire was agreed. Nagorno-Karabakh has remained in Armenian control and tensions between Azerbaijan and Armenia have persisted.
Putin and Sargsyan on Tuesday confirmed their adherence to the Nagorno-Karabakh conflict resolution by political means, the two leaders said in the statement.
The Russian and Armenian leaders also praised bilateral relations and said they planned to take bilateral cooperation to a higher level, also strengthening collaboration in the military and economic spheres.
Bilateral trade grew over 22 percent last year to more than $1.2 billion. Rail monopoly Russian Railways may invest about 15 billion rubles ($450 million) in the development of Armenian railroads, Putin told journalists.
© Сollage by RIA Novosti
Customs Union of Russia, Belarus and Kazakhstan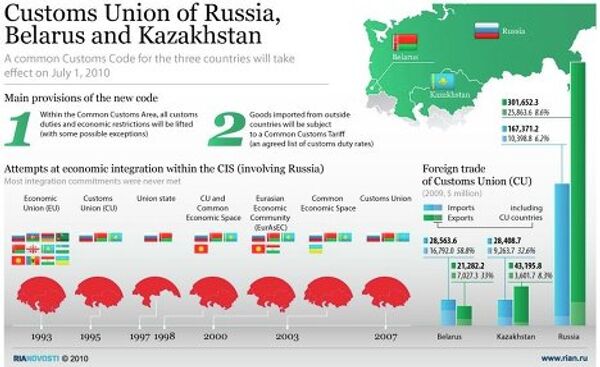 Customs Union of Russia, Belarus and Kazakhstan