MOSCOW, September 3 (RIA Novosti) – An asteroid about seven meters (23 feet) in diameter whizzed by Earth on Tuesday, only a day after it was discovered, a US-based astronomy group said.
But even if the asteroid, named 2013 RG, had encountered our planet, it would likely have burned up in the atmosphere, as falling celestial bodies less than 10 meters in diameter tend to do.
The meteor that exploded over Chelyabinsk, in Russia's southern Ural Mountains, in February was estimated to be more than twice as large: 17 to 20 meters in diameter.
Both space rocks are believed to be part of the Apollo group of asteroids, which regularly cross into Earth's orbit. Eleven more "close approaches" are expected this month, said the US-based Minor Planet Center, which announced the newfound asteroid's flyby.
The asteroid was first noticed by Arizona's Mt. Lemmon Observatory and then confirmed by astronomers in New Zealand and Bulgaria. It flew by Earth at a distance of about 220,000 kilometers (140,000 miles) around 10:30 a.m. Greenwich Mean Time.
© Sputnik
Asteroids That Buzz Planet Earth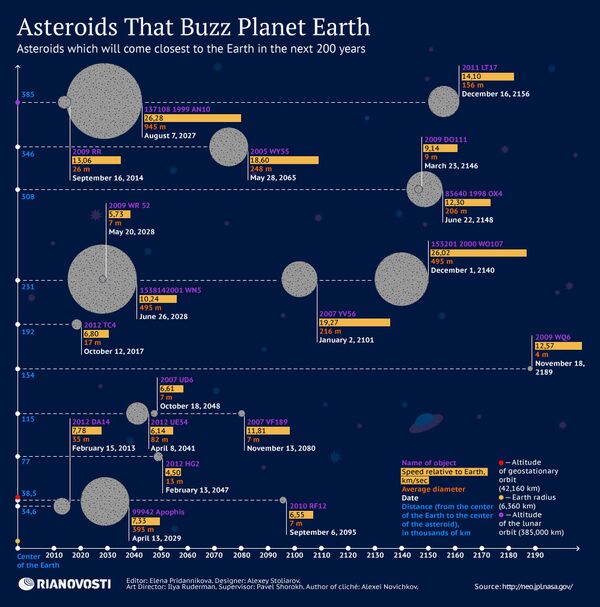 Asteroids That Buzz Planet Earth