MURMANSK, September 3 (RIA Novosti) - A naval task force from Russia's Northern Fleet is heading to the eastern Arctic, a spokesperson for the fleet said Tuesday.
The voyage is part of the Defense Ministry's program under Russia's Arctic policy and is designed "to uphold Russia's status as a leading arctic power, strengthen its security... and ensure national interests," the spokesperson said.
Led by the heavy nuclear-powered guided-missile cruiser Pyotr Veliky, the task force, which includes the large amphibious assault ships Olenegorsky Gornyak and Kondopoga and a variety of support vessels, has left its Severomorsk base and entered the Barents Sea, the spokesperson said.
It will take the Northern Sea Route to the Novossibirsk Islands and carry out a number training missions, as part of Russia's plan to restore its naval presence in strategically important areas.
This is the second large-scale voyage by Northern Fleet warships to the Arctic in the past two years, the fleet's spokesperson said, adding that last year a task force led by the Pyotr Veliky conducted a series of exercises near the Northern Sea Route.
© RIA Novosti
Pyotr Veliky – flagship of the Northern Fleet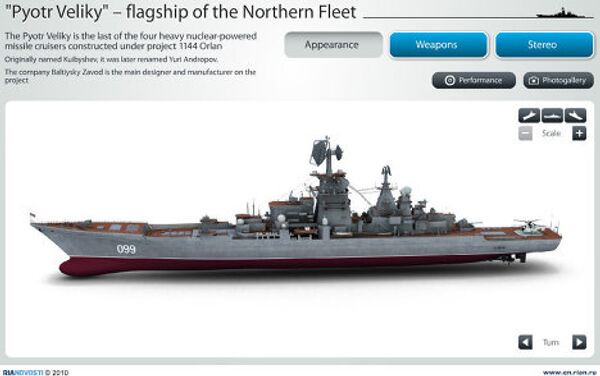 Pyotr Veliky – flagship of the Northern Fleet