MOSCOW, September 4 (RIA Novosti) - Russia does not rule out agreeing to a military operation in Syria, provided Damascus' responsibility for using chemical weapons is proven - but only with United Nations approval, President Vladimir Putin said in an interview broadcast Wednesday.
In an interview with the Associated Press and Russia's state TV network Channel 1, the Russian president stressed there is still no "exact information" about what exactly happened in Syria, or even that chemical weapons were used at all.
"It's still not clear whether chemical weapons or simply some kind of harmful chemical substances were used," Putin said. He stressed it was necessary to await the conclusions of the UN inspection team that was sent to Syria at the end of last month to investigate the sites of alleged chemical weapons attacks.
The Russian president described video footage of dead children allegedly killed by the chemical attacks as "horrible," but said the footage did not provide any answers to his questions about who was responsible. He claimed the video could have been produced by militants linked to al-Qaeda, "which has always been noted for its brutality."
Putin said if the UN analysis revealed "clear proof" that the Syrian government was responsible for a chemical weapon attack, Russia "would be ready to act in the most decisive and serious manner," but stressed that military action could only be taken against Damascus following a joint decision by the UN Security Council.
"Any other methods to justify use of force against an independent and sovereign state are unacceptable, and can only be qualified as aggression," he said.
Putin also confirmed that Russia has supplied some components for S-300 air defense missile systems to Syria, but has suspended completion of those deliveries.
 "If we see that they [Syria] are taking some steps related to the violation of existing international standards, then we'll consider how to act in the future, including supplying sensitive weapons in certain regions of the world," he told the Associated Press. 
Updated with quotes and detail, clarifying lead

© RIA Novosti
Forces Preparing for Possible Strike on Syria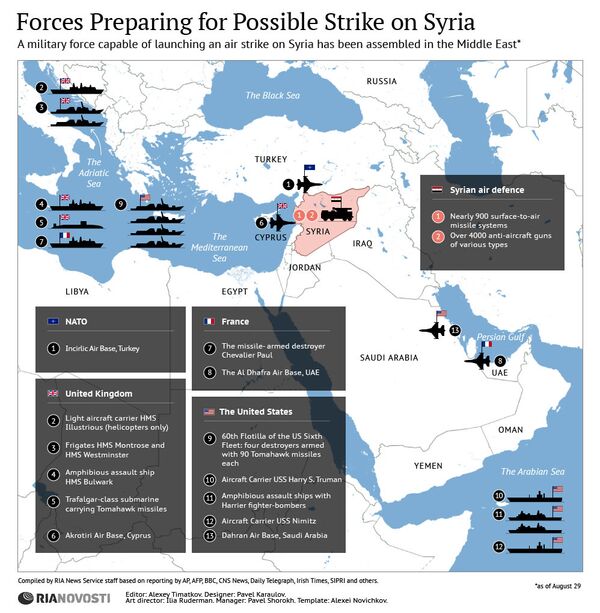 Forces Preparing for Possible Strike on Syria