KHABAROVSK, September 6 (RIA Novosti) - Waters of the Amur River near the flood-hit city of Khabarovsk in Russia's Far East are on a slow decline having dropped by three centimeters (1.1 inches) over the past 24 hours, local meteorologists said in a statement on Friday.
"Water decline continued on Friday morning as it reached the level of 798 centimeters [26.1 feet]," the statement said.
Earlier in the week, the water level in the river peaked over 810 centimeters surpassing the record mark of 642 centimeters, registered in 1897, by almost two meters.
© RIA Novosti
Russia's Flood-Hit Far East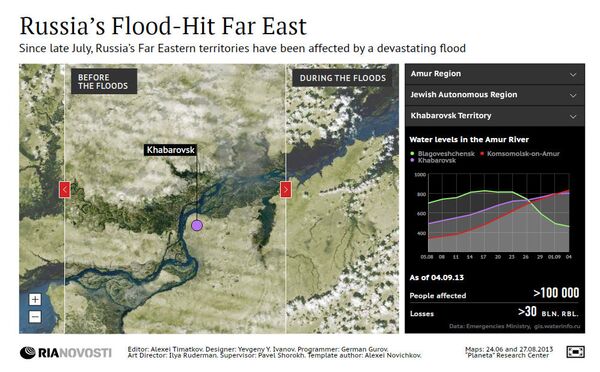 Russia's Flood-Hit Far East
Over 60 residential sites are flooded across the Khabarovsk Territory, including the cities of Khabarovsk and Komsomolsk-on-Amur. Some 2,300 residential buildings have been inundated, including over 660 in Khabarovsk. Over 3,800 people have been evacuated from the affected areas.