MOSCOW, September 6 (RIA Novosti) - UN Secretary General Ban Ki-moon reiterated addressing the participants of the G20 summit in St. Petersburg that the ongoing conflict in Syria must be settled diplomatically and weapons must not be supplied to any conflict side.
"Providing more arms to either side is not the answer. There is no military solution," the UN chief said at a working dinner that capped the first day of the summit.
The issue of the Syrian conflict was not on the agenda of the G20 summit and the UN Secretary General thanked Russian President Vladimir Putin for letting him to bring up this problem at the dinner in Peterhof, a former tsarist palace outside St. Petersburg.
Ban Ki-moon once again said that any outside military intervention in the Syrian conflict is impossible without the consent of the UN Security Council and stressed the need for holding Geneva-2 talks initiated by Russia and the United States.
Moscow and Washington proposed in May to hold an international conference aimed at facilitating a solution to the Syrian crisis through political dialogue. At least 100,000 people have been killed in Syria since fighting broke out between government forces and rebels in March 2011.
The so-called Geneva-2 conference is designed to be a follow-up to last summer's international meeting in Geneva during which a peace roadmap for Syria was drafted, including the establishment of a transitional government, with full executive powers and made up of members of President Bashar Assad regime and opposition groups.
© RIA Novosti
Forces Preparing for Possible Strike on Syria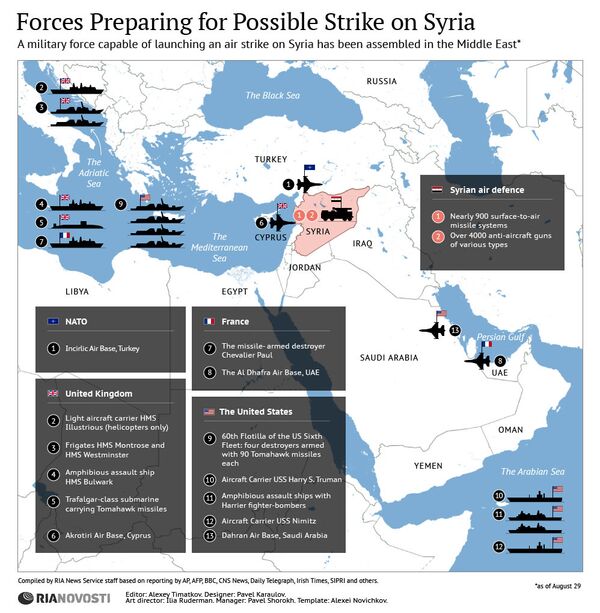 Forces Preparing for Possible Strike on Syria
US President Barack Obama recently asked the US Congress to support a limited military intervention in Syria because of the regime's alleged use of chemical weapons, which the US claims killed over a thousand civilians in one attack last month. The Senate's Foreign Relations Committee approved a motion backing a military strike Wednesday, and a final vote is expected next week after Congress reconvenes on Monday.
Moscow has repeatedly insisted that the United Nations is the only body that can legitimate military action in Syria.