ST. PETERSBURG, September 6 (RIA Novosti) – Russia will keep on supplying Syria with weapons and humanitarian aid and continue economic cooperation with Damascus in case of foreign airstrikes in the Middle Eastern country, Russian President Vladimir Putin said Friday.
"Will we be helping Syria? We will, same as we do now," Putin said at a press conference at the G20 summit in St. Petersburg.
"We're supplying arms and cooperating on economy. I hope there will be more humanitarian collaboration, including in humanitarian aid supplies to the people, the civilians who found themselves today in such dire straits," Putin said.
Putin said he discussed the Syrian crisis at the summit with his US counterpart, Barack Obama, who has accused the Syrian government of using chemical weapons against civilians and called for airstrikes against the regime despite Russian objections.
However, Putin said he and Obama failed to agree with each other.
"We remained unconvinced by each other. But there is a dialogue, we hear each other and understand the arguments. I disagree with him, with his arguments, he disagrees with mine, but we hear [each other] and try to analyze [arguments]," Putin said.
Putin reiterated that he believed the chemical attack on August 21 in Syria was the work of anti-governmental rebels looking to incite foreign intervention. The United States blames the attack on the forces of Syrian President Bashar Assad.
© RIA Novosti
Forces Preparing for Possible Strike on Syria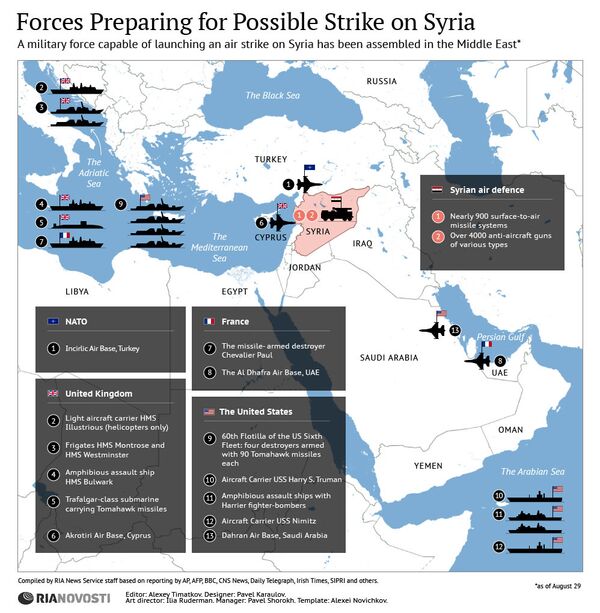 Forces Preparing for Possible Strike on Syria
G20 members Russia, China, India, Indonesia, Argentina, Brazil, South Africa and Italy oppose foreign military intervention in Syria and have voiced that position during the summit, Putin said.
He listed the United States, Turkey, Canada, Saudi Arabia and France as the countries backing an attack on Assad.