WASHINGTON, September 7 (By Karin Zeitvogel for RIA Novosti) – Hundreds of Americans, including many with Syrian and Middle Eastern roots, marched from the White House to Capitol Hill on Saturday to protest US President Barack Obama's push for a military strike on Syria.
"We are here to say 'no war' because war is destruction, war is more blood and we are tired of war," Amal Esmail, who moved to the United States seven years ago from Syria and recently became a US citizen, told RIA Novosti just before she addressed the protesters outside the White House.
Esmail and around 500 other protesters, some of whom had traveled to Washington from other parts of the East Coast, set off for the US Capitol just hours after Obama used his weekly address to the American people to plead his case for limited military action against Syria in response to what he called "the worst chemical weapons attack of the 21st century."
"We can't ignore chemical weapons attacks like this one – even if they happen halfway around the world," Obama said, referring to an alleged chemical weapons attack last month outside Damascus that Washington blames on the government of Syrian President Bashar Assad.
The United States claims that more than 1,400 civilians died in the Aug. 21 attack, including 426 children.
Obama is pushing for a punitive military strike against Syrian targets in response, a plan that has not only sparked protests in the United States, but also sharply divided Washington and Moscow.
Russian President Vladimir Putin said Friday at the end of the G20 Summit in St. Petersburg that he remains opposed to military intervention in the crisis without the support of the UN Security Council, and he repeated his belief that the apparent chemical weapons attacks in Syria were planned provocations.
Esmail and many of the other protesters in Washington on Saturday shared Putin's doubts about who carried out the attacks.
© RIA Novosti
Forces Preparing for Possible Strike on Syria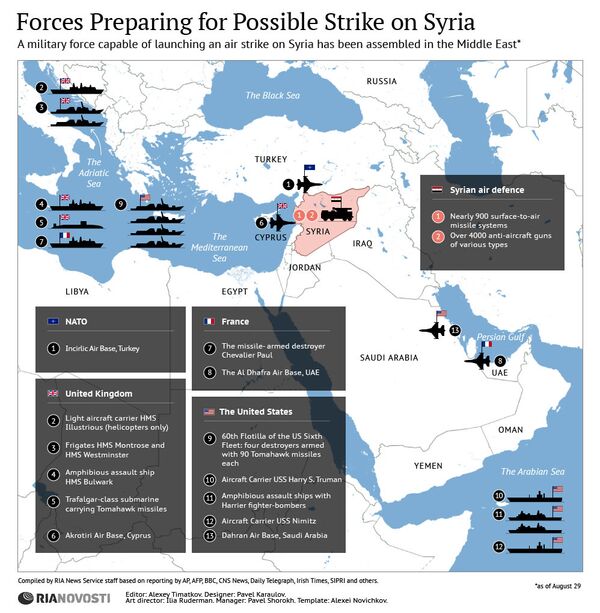 Forces Preparing for Possible Strike on Syria
"Do you think Assad is stupid enough to do this? I don't," Esmail said, pleading with US citizens and their government to "stop supporting this 'opposition' because they're using your weapons to kill us."
The large Syrian flag that Salam Sunna carried as she marched through Washington fluttered gently in the almost windless air on the hot, late summer's day.
Sunna, who is from Jordan, one of Syria's neighbors that has taken in hundreds of thousands of some 2 million refugees who have fled Syria, expressed skepticism at the US government's justification for launching an attack on Syria.
"I think it's all fabricated," said Sunna, whose first name means "peace."
"I honestly don't think Assad used chemical weapons against his own people. They just want to take us to war," she told RIA Novosti as the protesters passed by the National Archives.
As the march neared the Capitol, 8-year-old Eden Foley stopped for a drink of water. Foley was on her third march to protest proposed military action against Syria, but she had never walked two miles (3.2 kilometers) before, she told RIA Novosti.
Several smaller protests have been staged in cities around the United States and on Capitol Hill since Obama announced last week that the United States would take military action against Syria.
But Saturday's march in Washington and a dozen other US cities – from Albuquerque, New Mexico, to Youngstown, Ohio – brought out larger numbers of demonstrators than previous protests. In Washington, the protesters chanted slogans against endless war and carried yellow signs urging Congress to vote against military strikes on Syria when it reconvenes next week.
Obama acknowledged in his weekly address that Americans are "weary after a decade of war, even as the war in Iraq has ended, and the war in Afghanistan is winding down," and he repeated a pledge that there would be no US boots on the ground in Syria.
© Photo : Karin Zeitvogel
Hundreds Protest in Washington Against US Strike on Syria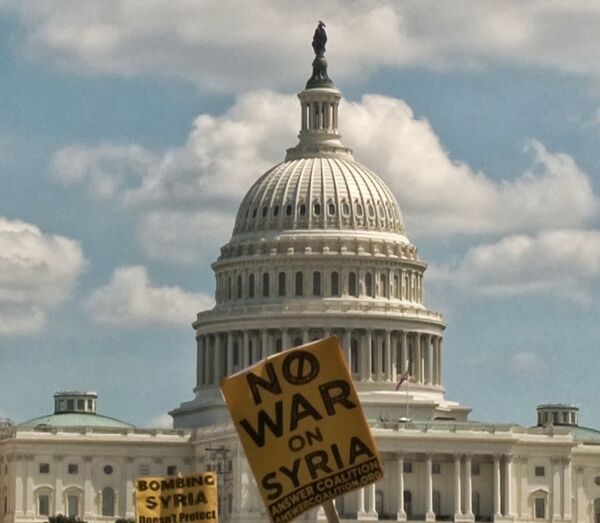 Hundreds Protest in Washington Against US Strike on Syria
© Photo : Karin Zeitvogel
But, he continued, "we are the United States of America. We cannot turn a blind eye to images like the ones we've seen out of Syria."
Syrian-American Nora Ismail, whose family comes from Aleppo and Damascus, cautioned that horrific as the pictures out of Syria might be, "bombing Syria is certainly not the answer."
"Everyone says, 'Oh, you've seen those photos of dead children, it's so horrifying,' but I guarantee you that if we intervene in Syria, we're going to have thousands more of those pictures," she said as the protesters turned a corner and headed to the Capitol.