MOSCOW, September 9 (RIA Novosti) – Russia has become a relatively happier country, but it still ranks below its autocratic neighbor Belarus, according to a UN-sponsored study released by Columbia University on Monday.
Russia climbed eight positions in the second annual World Happiness Report, ranking 68th of 156 countries – just behind Belarus (66) and the island nation of Mauritius (67), but above North Cyprus (69) and Greece (70).
The study, partially based on Gallup World Poll findings for 2010 to 2012, assesses factors that affect happiness, including "real GDP per capita, healthy life expectancy, having someone to count on, perceived freedom to make life choices, freedom from corruption, and generosity," it says.
© RIA Novosti
What makes Russians happy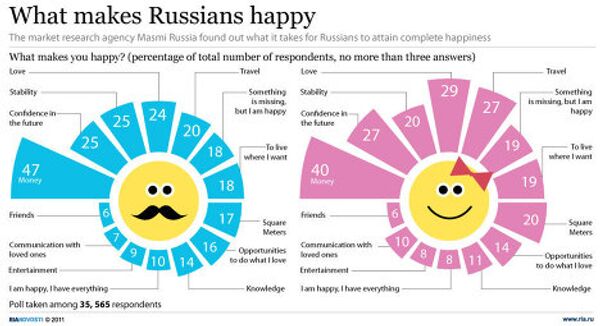 What makes Russians happy
The six least happy are all in sub-Saharan Africa: Tanzania, Rwanda, Burundi, the Central African Republic, Benin and, last, Togo.
The study is published by Columbia University's Earth Institute, headed by Professor Jeffrey Sachs, an adviser to UN Secretary-General Ban Ki-moon on the Millennium Development Goals, according to the school's website.
The Millennium Development Goals seek to improve the quality of life around the world, including through reducing poverty, halting the spread of HIV/AIDS and providing universal primary education, the UN website says.