MOSCOW, September 14 (RIA Novosti) – Talks between top Russian and US diplomats about removing chemical weapons from war torn Syria will enter their third day Saturday, according to media reports citing officials from both sides.
"Talks between the Russian and US delegations are not over yet and will continue tomorrow," a source in the Russian delegation said late Friday. A US official said the same day that the talks had reached a "pivotal point" and would continue into Saturday, Reuters reported.
The negotiations over a bid to put Syria's chemical weapons under international control – an initiative proposed by Moscow to avoid US military strikes on Syria – began on Thursday and are being led by Russian Foreign Minister Sergei Lavrov and his US counterpart John Kerry.
In a response to the Russian proposal last week, Damascus officially submitted a request to join the 1997 Chemical Weapons Convention on Thursday, an agreement that commits its members to destroying their chemical weapons stockpiles.
Little information has been released about the progress of the talks, but Kerry told a news conference Friday that the two sides were "committed to trying to work together," Reuters reported. Kerry also said that any future peace talks about the Syrian conflict would be linked to the whether or not the chemical weapons issue could be resolved.
© Sputnik
Elimination of Chemical Weapons in the World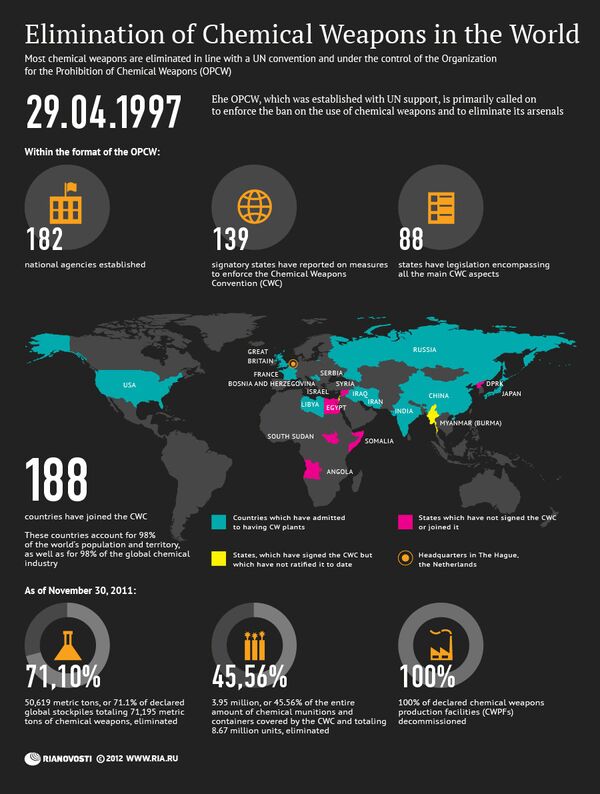 Elimination of Chemical Weapons in the World
"Much ... will depend on the capacity to have success here in the next hours, days, on the subject of the chemical weapons," Kerry said, Reuters reported.
US President Barack Obama appeared to express cautious optimism about the progress of the talks Friday, which he said he hoped would "bear fruit," although he warned that any agreement needed to be "verifiable and enforceable," the New York Times reported.
A senior Russian lawmaker, however, warned Saturday that it would be impossible to deal with all Syria's chemical weapons within the time period being sought by the United States.
"The US demands to transfer chemical weapons to under international control within 2-3 weeks is simply unprofessional: in Syria there are a minimum of 42 [chemical weapon] storage facilities, many of which are in a war zone," Chairman of the State Duma International Affairs Committee Alexei Pushkov wrote on social networking site Twitter.
Kerry and Lavrov will meet with UN-Arab League envoy for Syria, Lakhdar Brahimi, on Tuesday on the sidelines of the UN General Assembly, which convenes in New York, the Russian Foreign Ministry said Friday.
On Monday Kerry will discuss Syria with French Foreign Minister Laurent Fabius and UK Foreign Minister William Hague in Paris, Reuters reported, citing a French foreign ministry spokesman.
Recast throughout with new details, and Pushkov comments