MOSCOW, September 14 (RIA Novosti) – US President Barack Obama said Saturday that he "welcomes" the surprise deal Moscow and Washington reached on chemical weapons in war-ravaged Syria, but warned that the US will use military force if diplomacy fails.
The breakthrough agreement struck earlier Saturday came after weeks of intense diplomacy and an almost three-day-long marathon of talks in Geneva between Russian Foreign Minister Sergei Lavrov and his US counterpart John Kerry.
Obama said in a statement that the agreement was an "important" step in bringing all chemical weapons in Syria under international control and destroying them by mid-2014.
"I welcome the progress made between the United States and Russia through our talks in Geneva, which represents an important, concrete step toward the goal of moving Syria's chemical weapons under international control so that they may ultimately be destroyed," he said in a statement.
Washington had threatened a military strike on Syria claiming that President Bashar Assad regime's had used chemical weapons in the country's ongoing civil war that started in March 2011 and has claimed more than 100,000 lives, according to the United Nations.
Obama said that the international community "expects the Assad regime to live up to its public commitments."
His statement follows an about-face change in his Syria policies.
On Tuesday, Obama defended his plan for a punitive military strike against Syria over its alleged use of chemical weapons. But he said he had asked the US Congress to postpone a vote that he had been pushing for authorizing military action against Syria to give the diplomatic gambit a chance.
"In part because of the credible threat of U.S. military force, we now have the opportunity to achieve our objectives through diplomacy," Obama said but warned that "if diplomacy fails, the United States remains prepared to act."
© Sputnik
Elimination of Chemical Weapons in the World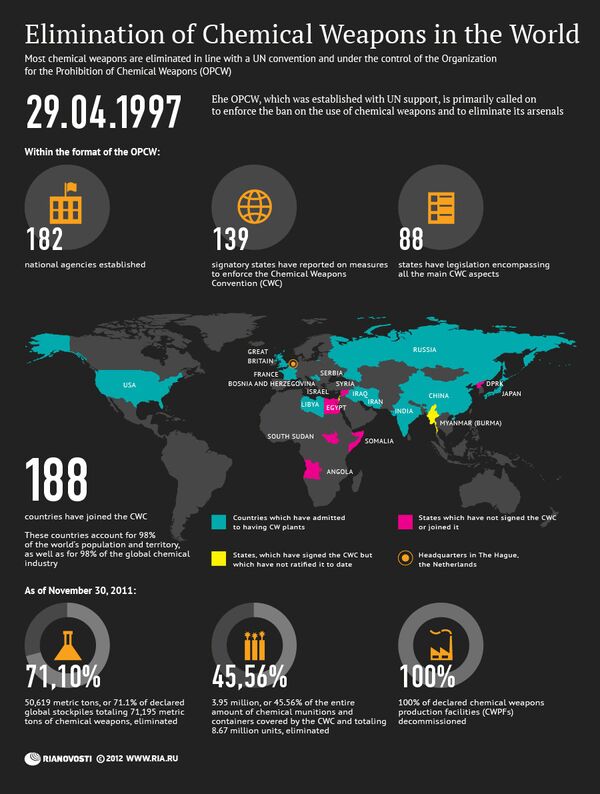 Elimination of Chemical Weapons in the World
Obama is facing significant resistance from the war-weary American public and US lawmakers to another military incursion into the Middle East.
The Russian proposal emerged only a day earlier after Russian Foreign Minister Sergei Lavrov seized on a comment made by US Secretary of State John Kerry, who said a US strike against Syrian targets could be averted if Damascus put "every single bit" of its chemical weapons under international control by week's end.
The Syrian government has blamed the Aug. 21 attack on rebel forces, and Russia has tentatively backed its long-time ally, while calling for further investigation.
Russia has been Syria's most important supporter during the civil war. Moscow along with Beijing vetoed three UN Security Council resolutions against Assad's government.
recasts lede, adds background