MOSCOW, September 14 (RIA Novosti) – The United States and Russia reached a landmark deal Saturday that will see all chemical weapons in war-torn Syria brought under international control and destroyed by mid-2014.
The breakthrough comes after weeks of intense diplomacy and almost three days of talks in Geneva between Russian Foreign Minister Sergei Lavrov and his US counterpart John Kerry.
Washington had threatened a military strike on Syria claiming that President Bashar Assad regime's had used chemical weapons in the country's ongoing civil war that started in March 2011 and has claimed more than 100,000 lives, according to the United Nations.
Moscow, which fiercely opposes military action, maintains that the chemical weapon attacks were carried out by Syrian rebel fighters, and Russian President Vladimir Putin called the US claims "unimaginable nonsense."
Saturday's agreement "could be the first critical, concrete step" towards ending the current crisis and achieving peace in Syria, Kerry said at a joint press conference with Lavrov in Geneva. 
The deal stipulates that Damascus will submit a comprehensive list of its chemical weapons within a week, that weapons inspectors will be on the ground in Syria by November, and that all the country's weapons will be removed or destroyed by the middle of 2014, Kerry said.
© Sputnik
Elimination of Chemical Weapons in the World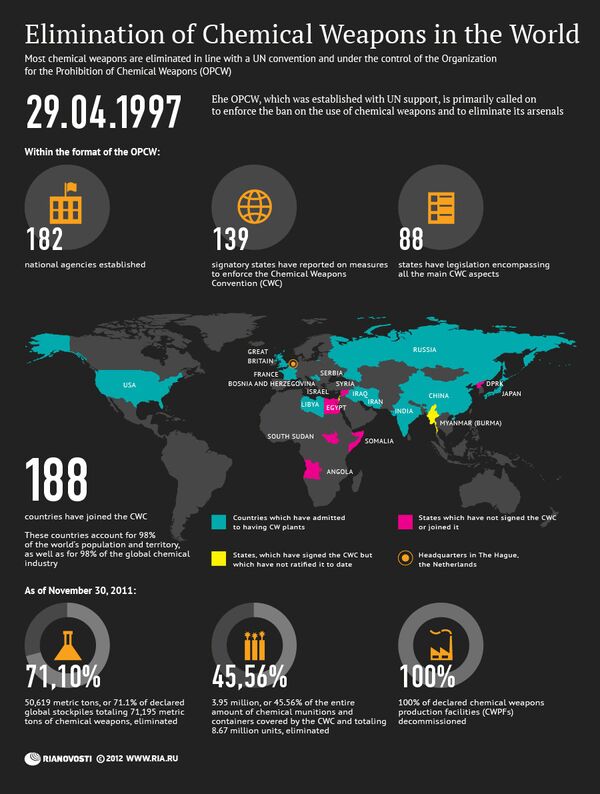 Elimination of Chemical Weapons in the World
Russia and the US have also reached a consensus on the quantity and types of chemical weapons in Syria, Kerry said.
A White House official told AFP that Syria's chemicals weapons – including mustard gas, Sarin and precursors – are stored at 45 facilities and amount to 1,000 tons. The official claimed that Russia agreed with the figures provided by the US.
UN Secretary General Ban Ki-moon hailed the agreement saying that he hoped it will end the "appalling suffering" of Syrians.
Seeking to avert possible US military strikes, Russia publicly proposed that Syria's chemical weapons be placed under international control Monday. Bashar's government, which has been supported by Russia in its fight against rebels, submitted a request to join the 1997 Chemical Weapons Convention on Thursday.
In remarks made before the Russian proposal, Kerry said Monday that the complete removal of Syria's chemical weapons from the country "could not be done." Speaking Saturday, however, he thanked Putin and Lavrov for their diplomatic efforts to resolve the crisis.
"President Putin, to his credit, despite real disagreement with our policy… reached out and tried to continue the dialogue," Kerry said. "I am pleased that President Putin took initiative, and Sergei [Lavrov] took the initiative, and that President [Barack] Obama responded."
© RIA Novosti
Forces Preparing for Possible Strike on Syria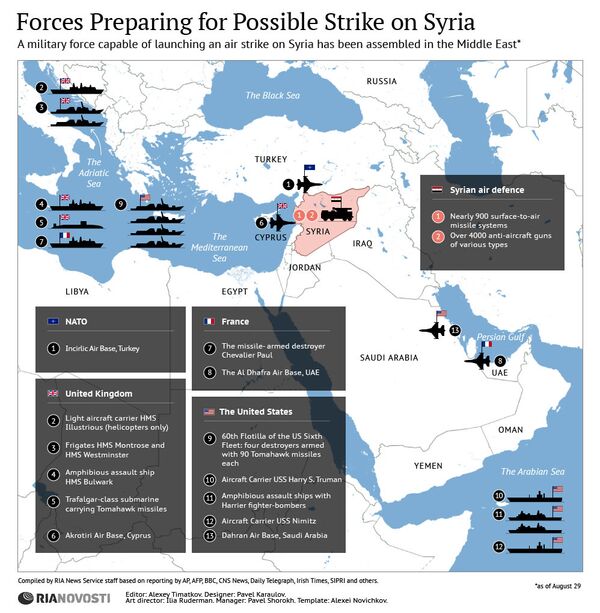 Forces Preparing for Possible Strike on Syria
Lavrov said Saturday's agreement had been reached in "record time," and added that it was the realization of a discussion between Obama and Putin during the G20 summit at the beginning of September.
"The goal, which was established in the conversation between our presidents on Friday September 6 during the G20 in Saint Petersburg, has been reached," said Lavrov.
The disposal of Syria's chemical weapons stockpiles will take place through the processes established by the Chemical Weapons Convention. Some of the weapons will be destroyed inside Syria, while others could be transferred outside the country for destruction, said Kerry.
Lavrov and Kerry said that any violations in the process of removing chemical weapons from war torn Syria will be referred to the United Nations Security Council for the imposition of appropriate sanctions.
Kerry used a few words of Russian during the press conference Saturday, when he quoted the Russian phrase "doverai no proverai" ("trust but check"), to warn that implementation of the deal would be closely monitored. While Kerry emphasized that both the United States and Russia believed only a political solution was possible in Syria, he said that the US President always retains the right to authorize a military attack.
Lavrov said Saturday that the use of force in the region would be "catastrophic."
adds grafs on the amount and locations of weapons, UN minor updates throughout with more background