SOCHI, September 14 (R-Sport) - Russian state-owned gas company Gazprom signed a deal Saturday to sponsor FIFA for a four-year period, including when Russia hosts the World Cup in 2018.
With Russian President Vladimir Putin looking on at the signing ceremony in 2018 World Cup host city Sochi, FIFA head Sepp Blatter and Gazprom CEO Alexei Miller put pen to paper on the contract, which runs from the start of 2015 to the end of 2018 and makes the gas firm the first Russian sponsor for that period.
"I am pleased that you have an agreement on working together," Putin said, adding that the deal is "important and noble."
© RIA Novosti
Russia's bid for the 2018 FIFA World Cup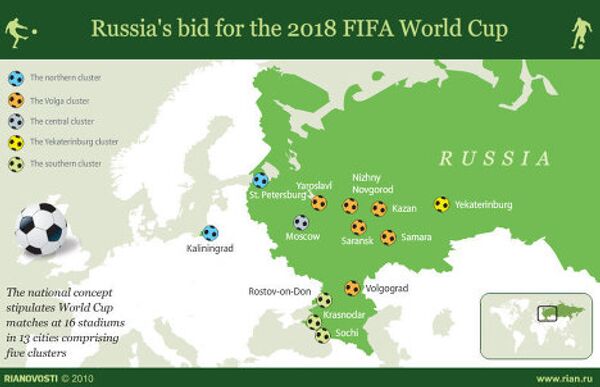 Russia's bid for the 2018 FIFA World Cup
The sponsorship deal allows Gazprom to use the FIFA and World Cup logos in its advertising and makes it the exclusive sponsor in the oil, gas and fuels sectors.
Gazprom already has extensive involvement in football as a sponsor of the Champions League and as the financial backer of three-time Russian champions Zenit St. Petersburg, as well as sponsoring clubs in several other countries.