MOSCOW, September 15 (RIA Novosti) – The Russian-US deal on Syria, reached on Saturday, does not mean that Washington has dropped plans to impose regime change in Damascus, a senior Russian lawmaker said.
"The agreement on Syria should not create any illusions: it has hampered the US military strike but it does not mean the refusal from a "regime change" in Syria," Alexei Pushkov, who heads the international affairs committee of the Russian parliament's lower house, said on Twitter.
Pushkov added that the deal deprives the Syrian rebels of the opportunity to use chemical weapons for provocations. "Now it will be clear that only they could have done this," he said.
After weeks of intense diplomacy and almost three days of talks in Geneva between Russian Foreign Minister Sergei Lavrov and his US counterpart John Kerry, the United States and Russia reached a landmark deal Saturday that will see all chemical weapons in war-torn Syria brought under international control and destroyed by mid-2014.
Pushkov said Saturday the deal was only "a step towards" a political solution to the conflict, and its implementation might stall if Moscow and Washington disagree on several key issues.
Washington has accused the Syrian government, which has been battling a domestic insurgency for over two years, of killing civilians outside Damascus with poison gas on August 21, and has threatened airstrikes against government targets in retaliation.
© RIA Novosti
Forces Preparing for Possible Strike on Syria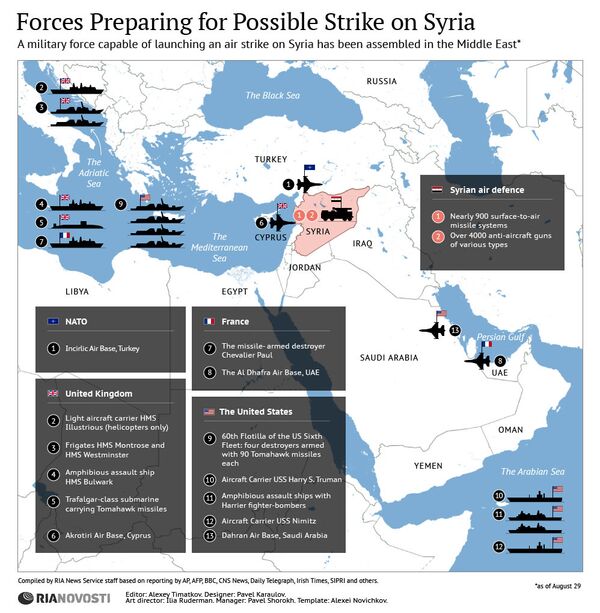 Forces Preparing for Possible Strike on Syria
Moscow fiercely opposes military action and maintains that the attacks were carried out by Syrian rebel fighters, and Russian President Vladimir Putin called the US accusations "unimaginable nonsense."