VLADIVOSTOK, September 16 (RIA Novosti) – A fire that broke out Monday morning on the K-150 Tomsk nuclear-powered submarine, which was undergoing maintenance operations at a dock in Russia's far eastern Primorye Territory, has been extinguished.
No one was injured in the fire, and ten fire brigades are continuing to tend to the area where the fire broke out to avoid re-ignition, the United Shipbuilding Corporation said in a press release.
A spokesman for the Zvezda plant, where the submarine was undergoing maintenance operations, told RIA Novosti that several firefighters suffered slight carbon monoxide poisoning, but received first aid and allowed to go home.
The fire erupted early Monday morning during welding operations on the submarine, when rubber insulation and old paint inside the sub's main ballast tanks started burning and filled part of the inside compartments with smoke.
Thirteen firefighting units from the Pacific Fleet and the Emergencies Ministry had come to the scene to put out the blaze, a local Emergencies Ministry spokesman said.
© Sputnik
Project 949A Antey Submarines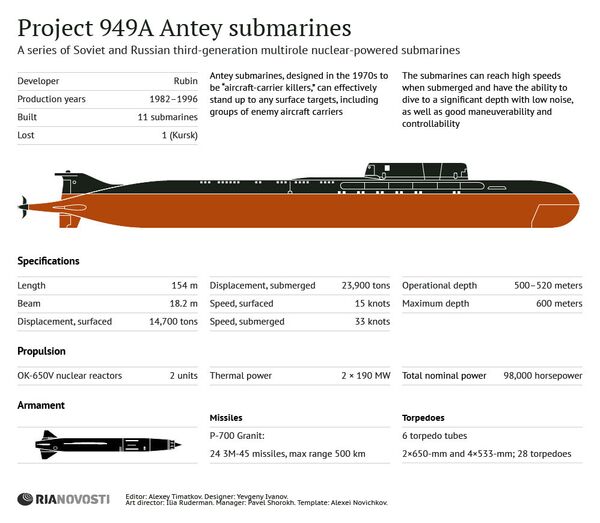 Project 949A Antey Submarines
The Zvezda spokesman said earlier that the fire was unlikely to cause an explosion on the vessel and that there was no danger to nearby residential areas.
The K-150 Tomsk cruise missile submarine was docked in 2010 due to problems with the cooling engine of its nuclear reactor.
Updated with additional quotes and information about the situation's progress. An earlier version of this story incorrectly identified the submarine as the Irkutsk.