VALDAI, September 18 (RIA Novosti) – The Soviet Union was not responsible for supplying warheads filled with chemical weapons to Syria, a top Russian official told reporters on Wednesday.
After a meeting of the Valdai Club – a discussion forum currently taking place in the town of Valdai in central Russia – the head of Russia's presidential administration Sergei Ivanov told reporters that the Soviet Union "did not supply warheads with sarin" to the Syrian government.
Earlier this week, the UN published long-awaited conclusions from its probe into the use of chemical weapons near Damascus in August.
The investigators found that surface-to-surface rockets containing sarin – a highly toxic nerve agent – were used in an August 21 attack that killed hundreds and injured thousands more.
At least two types of rockets had been used to launch the chemical weapons, including an M14 artillery rocket bearing Cyrillic markings, the report said. The UN team was not tasked with establishing whether Syrian government troops or rebels were responsible for the attack.
Russian officials immediately criticized the neutrality of the UN probe, with Deputy Foreign Minister Sergei Ryabkov slamming the report as "distorted," "one-sided" and based on "insufficient information" to state television channel RT.
Russia has played a major role in supporting the Assad regime and arming it throughout the Syrian civil war that broke out in March 2011.
President Vladimir Putin said in televised interview last month that Russia had supplied some components for S-300 missile defense systems to Syria, but that the shipment had been halted before completion.
© Sputnik
The S-300-P surface-to-air missile system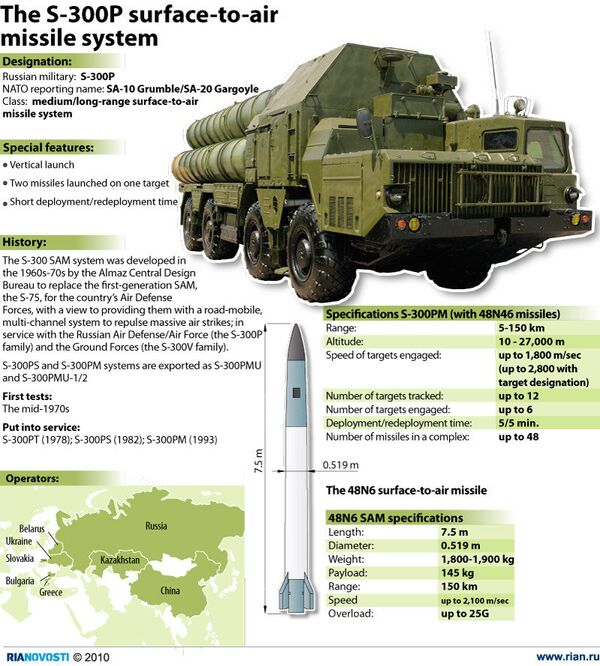 The S-300-P surface-to-air missile system