VALDAI, Novgorod Region, September 19 (RIA Novosti) – Russia is ready to help eliminate the Syrian government's chemical arsenal if the international community agrees, the Russian defense minister said Thursday.
If Russia is assigned a role in transporting or eliminating such weapons, "naturally Russia will participate," Defense Minister Sergei Shoigu told reporters, adding that his country possessed adequate facilities for destroying such weapons.
On Saturday, after days of intense negotiations, Russian Foreign Minister Sergei Lavrov and his US counterpart, John Kerry, announced an ambitious plan under which the Syrian government's entire chemical arsenal would be placed under international control by November and destroyed by mid-2014.
Syrian President Bashar Assad pledged on Wednesday to destroy his chemical arsenal, saying in an interview with American broadcaster Fox News that the process would take about a year.
On Thursday, Russia's defense minister stressed that there were no currently plans to deploy Russian special forces to Syria. He added, though, that chemical-weapons experts could be sent to help bring that arsenal under international control.
Everything will go according to an established procedure, Shoigu said in northwest Russia on the sidelines of the annual Valdai Club, a discussion forum where high-level Russian officials have been meeting with foreign political scientists since 2004.
"This is a big, serious job. We are only taking the first steps," he said, adding that it had yet to be decided whether the weapons would be destroyed on site or sent to facilities abroad.
© Sputnik
Elimination of Chemical Weapons in the World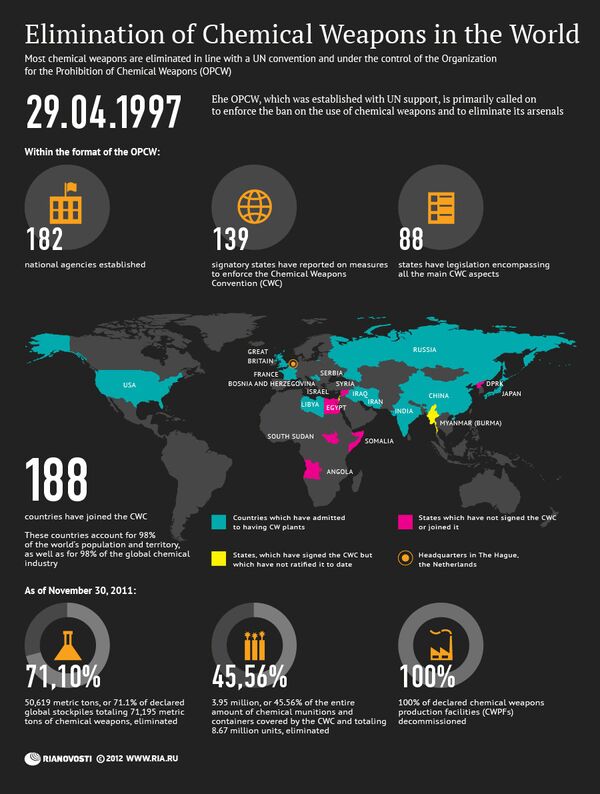 Elimination of Chemical Weapons in the World
Under the Lavrov-Kerry agreement, the Organization for the Prohibition of Chemical Weapons will work out a special plan for Syria's chemical weapons and the plan will be enforced via a UN Security Council resolution.
UN inspectors said Monday that they had found "clear and convincing evidence" that chemical weapons, including the nerve agent sarin, were used in an August 21 attack that killed hundreds of people in the Damascus suburb Ghouta.
The inspectors had no mandate to determine who had launched the attack, which the United States and some of its Western allies have attributed to the Assad regime, but which Moscow and Syria have called a provocation by anti-Assad rebels.