MOSCOW, September 22 (RIA Novosti) - Six Pantsir-S short-range air defense systems have been delivered to the Russian military ahead of schedule to ensure security during the Sochi Winter Olympics in 2014, a senior defense ministry official said.
The XXII Olympic Winter Games are scheduled to take place from February 7 to 23 in the Russian Black Sea resort city of Sochi. The first Winter Olympics to be held in Russia are widely regarded as an opportunity for the country to showcase its economic achievements under President Vladimir Putin.
"We will do everything possible to accomplish the task of protecting the Russian airspace along the southern borders and to ensure security during the Winter Olympics," Maj. Gen. Viktor Gumenny, the commander of air defense troops of the Russian Air Force, said Saturday.
The general said that the Pansir-S air defense systems will be initially sent to the Ashuluk firing range in southern Russia to ensure the proper training of their crews during the next two months.
The Pantsir-S is a combined gun-missile system featuring a wheeled vehicle mounting a fire-control radar and electro-optical sensor, two 30-mm cannons and up to 12 57E6 radio-command guided short-range missiles.
© RIA Novosti
The Pantsyr-S1 mobile short-range gun and missile air defense system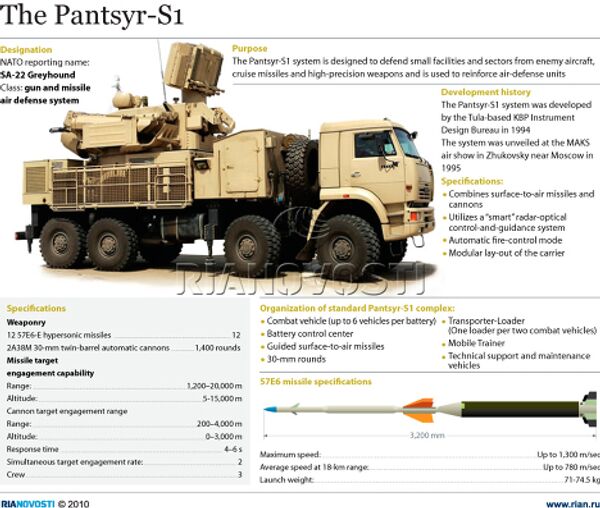 The Pantsyr-S1 mobile short-range gun and missile air defense system
The system is designed to take on a variety of targets flying at low level, including cruise missiles and aircraft, and can effectively engage targets at up to 20 kilometers.
The Defense Ministry has reportedly ordered 100 Pantsir-S units for Russia's Aerospace Defense Forces.
A maneuverable track-bearing variant is currently being developed by Russia's High Precision Weapons corporation, to be put in service with the Russian Ground Forces and Airborne Troops in the near future.