NB: This story has been corrected. In the original, President Putin's quote about rebel groups in Syria was mistranslated as they "did not arise out of thin air and are not going to stay put." The version below is correct.

SOCHI, September 23 (RIA Novosti) – Russian President Vladimir Putin said at a gathering of Eurasian leaders on Monday that he was concerned about terrorism spreading from Syria to Russia and neighboring states.
"Rebel groups [in Syria] did not arise out of thin air and are not going to disappear. The problem of terrorism spilling over from one country to another is certainly real and can certainly affect the interests of any of our countries," Putin said in Sochi at a meeting of the Collective Security Treaty Organization (CSTO), a military alliance of former Soviet states.
He noted the recent mall takeover and mass killing by suspected members of an al-Qaeda-linked Somali militant group in Kenya was an example terrorism spilling over into another country.
"The rebels came from another country and are committing terrible, bloody crimes," Putin said and expressed condolences over the dozens of lives lost in the mall attack. "I hope the criminals will be punished," he said.
© RIA Novosti
Countries with greatest risk of terrorism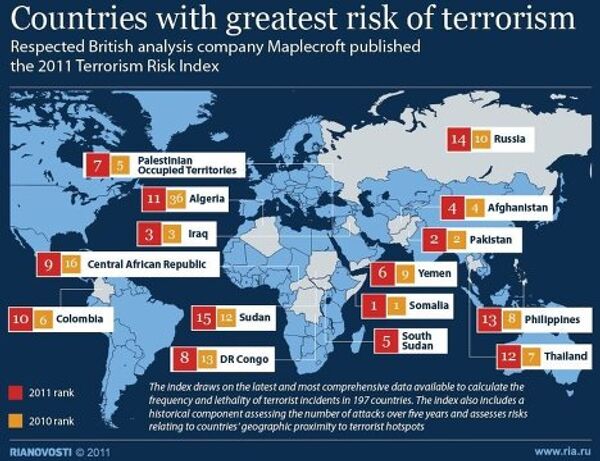 Countries with greatest risk of terrorism