MOSCOW, September 23 (RIA Novosti) – Russia is planning to launch a light-class Rokot carrier rocket with three research satellites from the Plesetsk space center in November, the Defense Ministry said Monday.
"The Plesetsk center has started preparations for the launch of three Swarm satellites designed for the study of the Earth's magnetic field," Defense Ministry spokesman Col. Dmitry Zenin said.
"The spacecraft and the Rokot carrier rocket are being prepared for the launch, scheduled for November this year," the official said.
© RIA Novosti
The light payload Rokot launch vehicle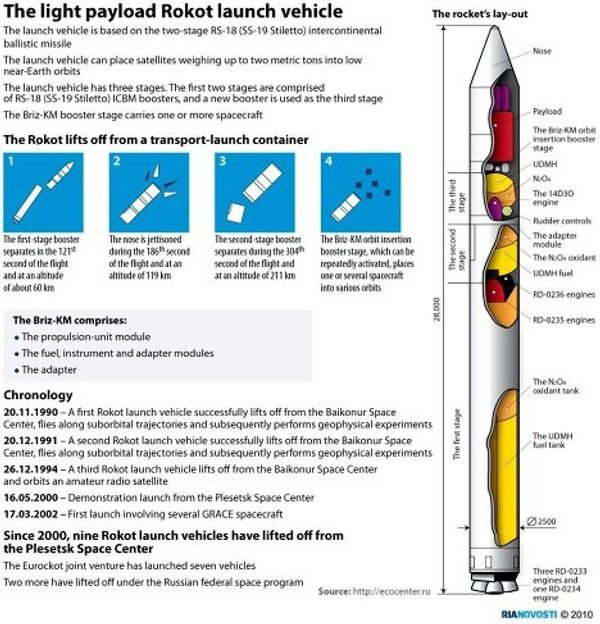 The light payload Rokot launch vehicle
It will be the third launch of the Rokot this year from the Plesetsk space center in northern Russia.
The previous launch was carried out on September 12 to deliver three communications satellites into orbit.
The launch followed a nine-month suspension due to attempts to fix a glitch in the rocket's booster.
All launches of Rokots were suspended in January after the rocket's Briz-KM booster failed to deliver three military satellites into their designated orbits, resulting in the loss of one of the satellites.
The light-class Rokot launch vehicle is a modified version of the Russian RS-18 (SS-19 Stiletto) intercontinental ballistic missile. It uses the two original lower stages of the ICBM, in conjunction with an upper-stage block containing the Briz-KM booster and space-bound payloads.