KHOTKOVO (Moscow Region), September 23 (Dmitry Vinogradov, RIA Novosti) – A historical reenactment group is attempting to recreate medieval daily life outside Moscow. In an experiment launched in Khotkovo, just a few dozen kilometers from the hustle and bustle of Europe's largest megalopolis, a 24-year-old man will spend six months alone in a medieval-style farmstead. The idea is to see if a modern person can survive in a 9th-century environment, with no access to electricity, the Internet or other modern amenities, and what impact living a hermit's life will have on his psychological state.
Life Without Corn
The farmstead, built like an early Novgorod home and constructed based on archeological findings, is located just 45 kilometers northeast of Moscow, with a busy highway in the vicinity.
There are goats and hens roaming the yard. A husky, ginger-bearded man in a traditional shirt and leather boots is trying to make fire using a period fire starter. Pavel Sapozhnikov, 24, the main participant in the experiment, shows us around his medieval domain.
© RIA Novosti . Dmitry Vinogradov
The fire starter, left, and the flint, right, are easily distinguishable from each other.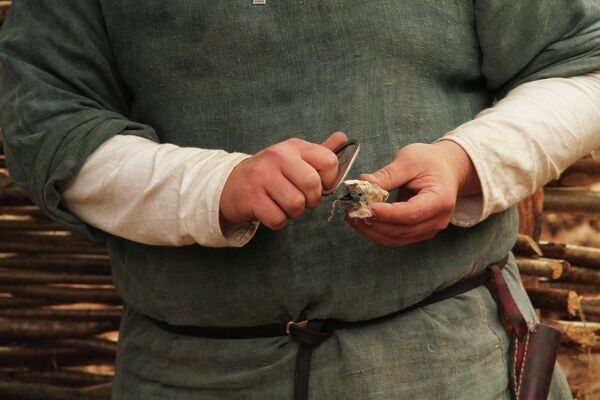 The fire starter, left, and the flint, right, are easily distinguishable from each other.
© RIA Novosti . Dmitry Vinogradov
The central structure is a rectangular building comprised of three rooms. The middle room serves as the living area, complete with a small stove and a hide-covered bench to sleep on. Hanging from the ceiling are mushrooms and smoked fish, and there are pails full of cranberries and lard in the corner. The fish has a rather strong smell, but the experiment organizers say it must be kept at a warm temperature and that Pavel will get used to the smell.
The second room is a storage area. Only varieties of grain that were known in the 9th century are stocked here. There is no corn, for example, as that was only discovered by Columbus five centuries later.
The third room serves as an animal barn. The organizers have provided Pavel with several goats and hens to make sure he always has fresh milk and eggs among his staples. The reenactment group told RIA Novosti that the budget for the experiment is about 2 million rubles ($63,000). Pavel is not likely to starve to death. He will also sustain himself by hunting in local woods, where foxes and hares can still be found, and by going fishing. When hunting, however, he will have to rely exclusively on period tools. As firearms had not been invented in the 9th century, he will have to try his hand at setting traps and catching prey with nets.
Ninth-Century Gadgetry
A day before the experiment is set to start, Pavel puts away all the modern gadgets and devices he normally uses in his daily life.
For the next six months, he will have to make do without his iPad and iPhone, as well as the sticky tape, waterproof box of matches, latch hook and several penknives he usually carries around with him.
Instead, on this trip back in time, Pavel is taking a fire starter and flint, a fibula (an old type of brooch), a comb – to brush out the lice, he jokes – whetstones, spring scissors, a piece of wax to polish thread so that it goes through leather more easily and, most importantly, an axe.
"You can do anything with an axe. And things you cannot do with an axe can be done with a tool that an axe will help you make," he explains.
© RIA Novosti . Dmitry Vinogradov
Some of the "gadgets" Pavel will have to rely on throughout his trip back in time.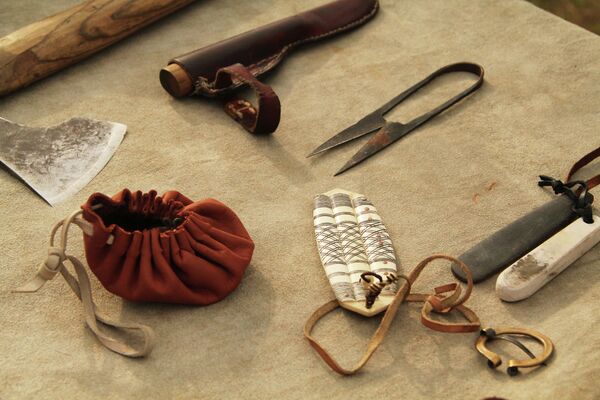 Some of the "gadgets" Pavel will have to rely on throughout his trip back in time.
© RIA Novosti . Dmitry Vinogradov
Information Vacuum
"We were especially interested to see how a person could live through the autumn and winter, when food and water supplies are scarce and daylight is short," said Alexei Ovcharenko, head of the Ratobortsy historical reenactment club in charge of the project. He said the experiment is scheduled to last till March 22: the spring equinox, when the Slavs celebrated the start of a new year.
But it looks like Pavel will have no time to despair – there are too many daily chores to attend to.
"I start my day by feeding the hens and goats, and milking. Then there is the stove to get started and grains to be ground into flour – enough work to keep me busy till lunchtime."
© RIA Novosti/Avrora Andrey Klimov, Irina Lyulina
With all those household chores, along with cleaning, cooking, hunting and fishing, the spring will come along before he knows it.
The house is not the only structure on the farmstead. There is also a banya, a bread stove, a smokehouse for meat and fish and a hay loft. And there is storage space for perishable food – a hole has been dug in the ground to maintain lower temperatures.
Pavel does not seem daunted by his new household responsibilities, saying: "I know how to deal with it all." Indeed, he has some relevant expertise under his belt already, having spent two seasons entertaining tourists in a similar project in the Kaluga Region. His latest venture is somewhat more challenging, however.
What Pavel finds more daunting, though, is the lack of information he will have, with no access to books, newspapers or the Internet.
The Ratobortsy Club organizers say the project is part of experimental archeology. It is one thing learning about early Slavs' homes and daily life, and quite another trying to live like that, Alexei Ovcharenko told RIA Novosti.
"How often their woolen socks needed mending, how long their skis and knives would last, how durable their hide-covered roofs were – we'd like to test these kinds of everyday things in practice," the organizers explain.
When they arrived at the farmstead, the goats were producing 1.5 liters of milk a day. But since they started eating only natural food, free of artificial additives and antibiotics, their output has halved.
"Our objective is to see how the milk output and the size of eggs will change. Will the next generation of goats and hens be smaller? How will they be influenced by the free-range conditions and the chemical-free food?"
The experiment will be observed by professional historians, and the organizers hope its findings will provide valid data for academic research.
A Dream Come True
Pavel has no higher education. He spent several years studying at Moscow's Sechenov School of Medicine, but dropped out. He says the main reason was his disillusionment with the public healthcare system and that he saw no point in working as a private practitioner. Incidentally, there was no such thing as higher education in the 9th century.
Several years ago, Pavel developed a keen interest in the historical reenactment movement and soon turned this passion into a professional occupation.
But why has he volunteered for this particular experiment?
"Others have families to take care of, along with busy schedules. But I don't have any of that," the 24-year-old replies.
"Of course I'll miss him," his girlfriend, Irina, says. She has come along to help Pavel set up his life on the farmstead. "I'm going to come visit on a monthly basis. I've got long-term designs on him." She said she was willing to stay with him throughout the experiment, but that the organizers would not let her.
"I'm not afraid for my son," says his mother, also named Irina. "I've looked round the farmstead and I can see that the guys approached the task responsibly."
She does not seem disconcerted by the fact that Pavel has volunteered to live as a hermit "in the prime of his youth."
"A man should make his own life choices. Living here is safer than in Moscow and I don't agree that the six months he's going to spend here will be a waste of time. He's got all his life ahead of him for education and a career."
The entire Ratobortsy Club took part in the construction of the medieval farmstead. The men helped to build the house and the banya, while the female members mixed the clay.
The experiment will be hard-going, but Pavel's health will be closely monitored throughout. A GP and a psychologist will do on-site checkups once a month. On that day, his family will also be able to come and see him. Pavel will also be the subject of a film about the experiment.
According to the organizers, the experiment has another aspect – a socio-psychological side. What will be the impact of secluded living on a human being?
© RIA Novosti . Dmitry Vinogradov
Glasha the goat.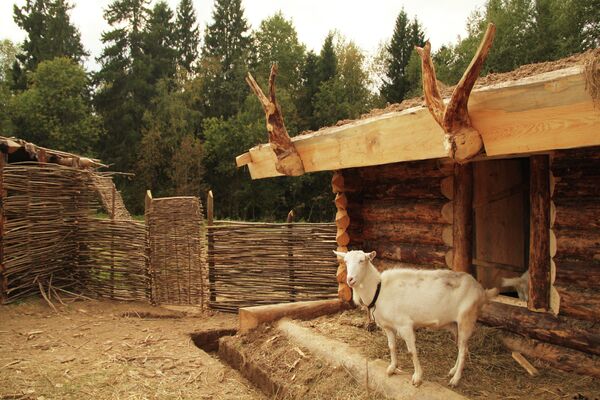 Glasha the goat.
© RIA Novosti . Dmitry Vinogradov
"We've deliberately sent Pavel 'into the past' all alone – this way he will be able to submerge himself in his new life better, detaching himself from modern realities," Ovcharenko explains. "If he were there with someone else, the two of them wouldn't be able to resist discussing modern day issues."
People with a passion for historical reenactment can spend a whole year making replicas of period costumes and weaponry to show them off at a gathering that may last for only a week. With Sapozhnikov, this passion has been brought to its logical conclusion. His escape from the stresses of the modern world into another era with a more simple way of life is a dream cherished by many.