MOSCOW, October 6 (RIA Novosti) – Russian state oil giant Rosneft has plans to extract oil in the next 100 years and sees no significant threat from the increase in shale gas production in the United States, CEO Igor Sechin told journalists Sunday.
"We have a 100 year work prospect," Sechin said. "As for the shelf, we have no other alternative. In general, oil needs to be extracted," he said adding that the US shale production is high-cost, which makes it impossible for export.
US media reports said this week the United States was expected to leapfrog Russia as the world's largest producer of oil and natural gas this year thanks to a surge in US fuel production driven by technology that allows energy companies to tap into oil and gas in underground shale rock formations.
As US energy extraction and production have gone up, imports of natural gas and crude oil have fallen by 32 percent and 15 percent, respectively, in the last five years, the Wall Street Journal (WSJ) said.
Sechin said Rosneft, which has 1.5 percent of world's explored reserves, was interested in international partnership and would adhere to high environmental standards.
© Sputnik
Modern Oil and Gas Extraction Methods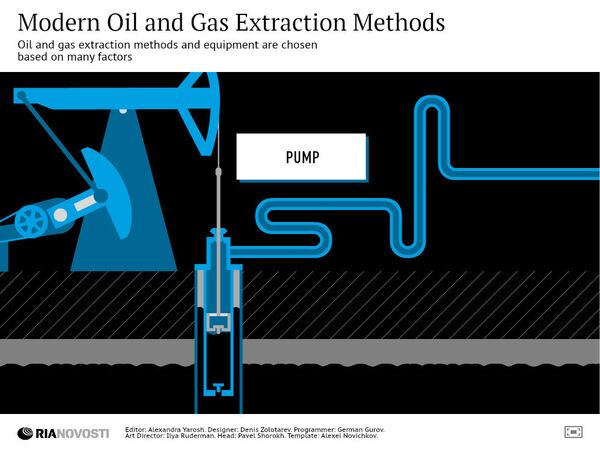 Modern Oil and Gas Extraction Methods
He has accused the activists of the non-profit environmental organization Greenpeace, who were detained last month by Russian authorities after staging a "peaceful protest" against oil drilling in the Russian Arctic, of pursuing commercial interests.
"Look at those who pay them, who is their sponsor," Sechin told journalists.
Rosneft currently holds 46 licenses for Russian offshore deposits worth 42 billion tons of oil equivalent. The company has signed agreements on cooperation with US oil and gas giant Exxon Mobil, Italy's Eni and Norway's Statoil.
Updates at 14.32, changes headline, lead