MOSCOW, October 9 (RIA Novosti) – Russian Defense Minister Sergei Shoigu will depart next week on a four-day trip to Brazil and Peru to promote the sales of Russian weaponry to these countries, the Kommersant daily reported Wednesday.
The success of Shoigu's talks with Brazilian and Peruvian counterparts will significantly boost Russia's chances to sell military equipment worth at least $1.7 billion, the paper said citing a source in the Russian General Staff.
The Russian delegation, led by Shoigu, will first visit Brazil to discuss the sales of Pansir-S1 and Igla missile systems, which the Brazilians believe could become a key element of air defenses during the upcoming 2014 FIFA World Cup Brazil.
The Pantsir-S, produced by Russia's KBP, is a gun-missile system combining a wheeled vehicle mounting a fire-control radar and electro-optical sensor, two 30-mm cannons and up to 12 57E6 radio-command guided short-range missiles, and is designed to take on a variety of targets flying at low altitudes.
© RIA Novosti
The Pantsyr-S1 mobile short-range gun and missile air defense system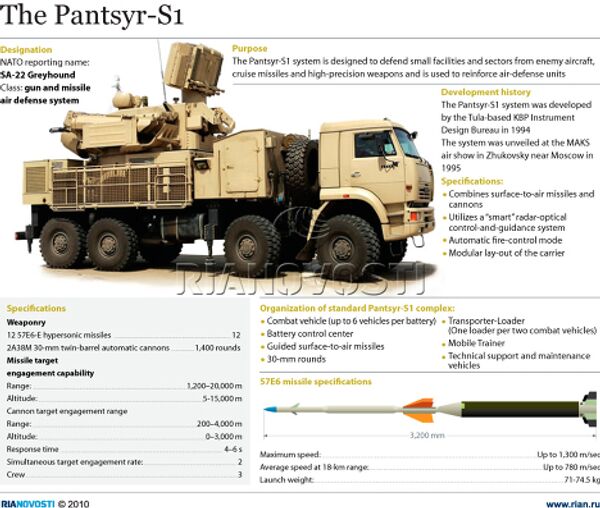 The Pantsyr-S1 mobile short-range gun and missile air defense system
The Igla is a Russian man-portable infrared homing surface-to-air missile.
The potential Brazilian deal is estimated at $1 billion, the Kommersant said.
In Peru, Shoigu will push the sales of 110 T-90S main battle tanks and the same number of BTR-80A armored personnel carriers in a deal worth about $700, according to the paper.
Russia left a prototype T-90S tank in Lima for trials by the Peruvian military, following its participation there in the SITDEF Peru 2013 arms exhibition in May.
Peru currently operates around 300 obsolete Soviet-made T-55 tanks, which Lima wants to replace with T-90S.
In addition, the Peruvian military has expressed interest in buying new air defense systems to replace Soviet-era Pechora (SA-3 Goa) systems, the Kommersant said.