MOSCOW, October 9 (R-Sport) – Russia's national anti-doping agency said Wednesday that the number of cases of suspected doping over the first nine months of 2013 is almost double that of the same period last year.
The jump comes at a key time for Russia as it prepares to host next year's Winter Olympics in Sochi.
Officials said the spike was attributable to increased testing.
"The number of breaches of anti-doping rules, including those at the investigation stage, over the first nine months of the current year is almost double the analogous data for the whole of last year," RUSADA anti-doping agency said in a statement on its website.
"From the start of the year, sanctions for various breaches have been applied to 88 athletes. More than 80 further cases are in the investigation and judgment stages," the statement said.
The statistics refer to tests taken by RUSADA, which tests Russian athletes at training camps and domestic and foreign athletes at various competitions.
The competitions covered this year include Olympic test events, the world athletics championships in Moscow in August and the World University Games in Kazan in July, RUSADA said.
Sports doping: classification and effects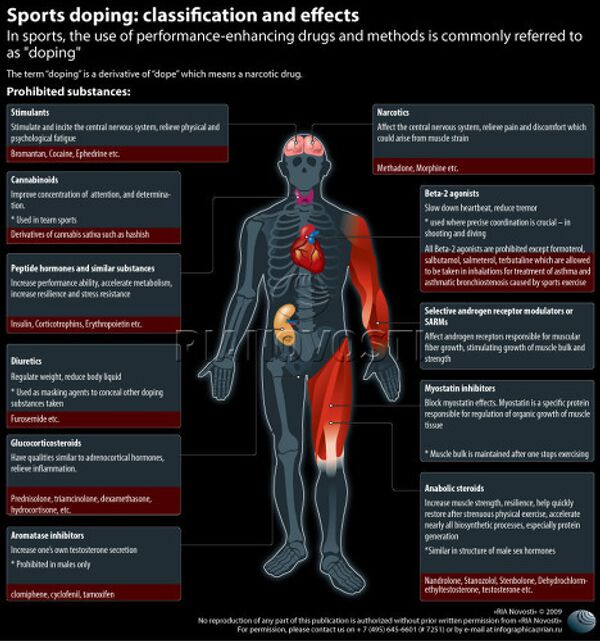 Sports doping: classification and effects
Russian sports have long been plagued by the use of banned substances, including by high-profile athletes such as Darya Pishchalnikova, who tested positive for illegal steroids at last year's London Olympics and was stripped of her discus silver medal and banned for 10 years.
So far this month, former European 5,000-meter champion Olga Golovkina received a two-year ban following a positive RUSADA test. The agency also announced temporary suspensions for two canoeists and a martial arts fighter.
Russia's anti-doping enforcement regime came under fire in July when Britain's The Mail on Sunday alleged that the head of the national testing laboratory had faced criminal charges related to the supply of banned substances.
S