MURMANSK/STAR CITY, October 15 (RIA Novosti) – A Russian expedition carrying a Sochi 2014 Olympic torch set off Tuesday for the North Pole, while Russian cosmonauts prepare to take a modified Olympic torch into space next month.
The Olympic torch was delivered Tuesday to Russia's NS 50 Years of Victory vessel, the largest nuclear-powered icebreaker in the world, in a ceremony in Russia's Arctic port city of Murmansk.
The icebreaker is set to cover a distance of over 5,000 km (over 3,100 miles) during an estimated period of 15 days and then the Olympic torch will be used to light a bowl at the northernmost point on Earth.
Arthur Chilingarov, a Russian polar explorer and vice president of the Russian Geographical Society, said at the Murmansk ceremony that it would be the first time the Olympic torch had traveled to "the top of the world," where "the concept of time loses its meaning."
"I believe it is extremely symbolic to light the Olympic torch there, since Olympic values have remained unchanged for centuries," said Chilingarov, who will be among 11 torchbearers during the torch's journey across the Arctic.
The Arctic journey is not part of the 123-day torch relay itself, just like the scheduled trip of an adjusted Olympic torch to the International Space Station next month.
Sergei Krikalev, head of the Cosmonauts' Training Center outside Moscow, said earlier Tuesday that an unlit torch with an extra tether attached would be carried into open space next month by cosmonauts Oleg Kotov and Sergei Ryazansky, during which time it will orbit the Earth several times.
He said Russian engineers had tweaked the design of the torch to prevent it from slipping out of the cosmonauts' grip during the photo-op spacewalk.
"The Olympic torch for space is just like the one for the Earth, but there will be no gas in it," he said.
© RIA Novosti Anastacia Ishenko
"To take it into open space the object was reworked: An extra fixing element has been added to attach a tether to, just so it doesn't fly away," Krikalev added.
After the torch returns to Earth on November 11 it will be taken to the Olympic host city of Sochi and used to light the cauldron at the opening ceremony on February 7.
The actual torch relay began on Red Square on October 7 and on Tuesday reached the city of Ryazan as part of its 65,000-kilometer (41,450 mile) journey.
© RIA Novosti
Sochi 2014 Olympic Torch Relay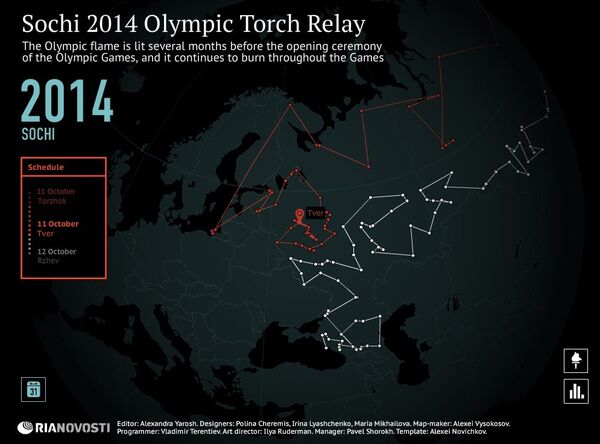 Sochi 2014 Olympic Torch Relay