TYUMEN, October 17 (RIA Novosti) – A Russian gas company has paid $6,000 in compensation for environmental damage caused during an eight-day fire at one of its gas wells in northwest Siberia, prosecutors said Thursday.
The Yamalo-Nenets Autonomous District prosecutor's office said safety violations were committed during drilling at an exploration well owned by Russia's Arctic Gas Company, also known as Arcticgas, which resulted in an uncontrolled emission of gas on August 19.
The ensuing fire raged for eight days. As a result, over three tons of methane, 17.5 metric tons of nitrogen dioxide, 2.5 metric tons of nitrous oxide and almost 150 metric tons of carbon monoxide were released into the atmosphere.
"The environmental damage has been compensated in full," prosecutors said in a statement.
Arcticgas is a subsidiary of SeverEnergia, which is 51 percent owned by Yamal Development, a 50-50 joint venture between Novatek and Gazprom Neft.
As of December 31, proven gross reserves at the non-producing fields of SeverEnergia, as calculated under U.S. Securities and Exchange Commission reserves methodology, were estimated at 322.9 billion cubic meters of natural gas.
© Sputnik
Russian oil and gas fields in the Arctic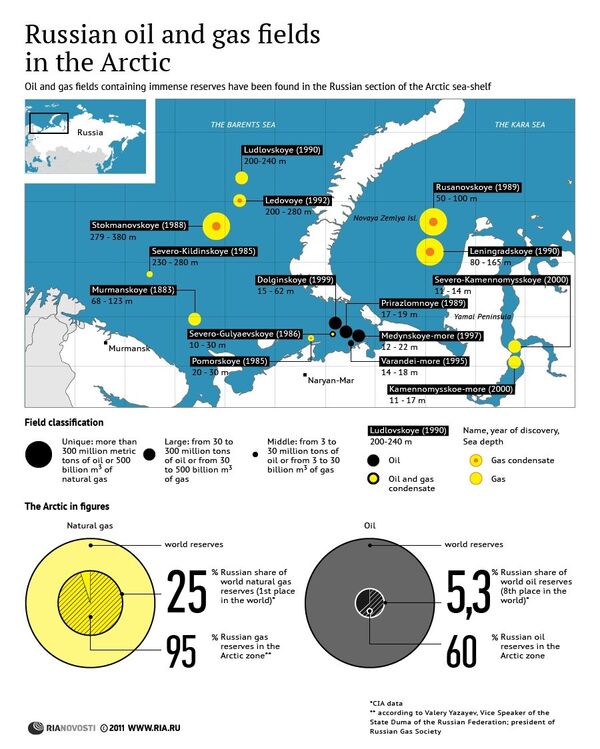 Russian oil and gas fields in the Arctic