MOSCOW, October 21 (RIA Novosti) – Russian Deputy Prime Minister Dmitry Rogozin said Monday that Austrian-manufactured Glock pistols ordered by the Defense Ministry were clearly overpriced and said that Russia should rely on domestically produced small arms.
The Defense Ministry's procurement agency posted a public notice in October on its website saying it was willing to pay suppliers up 210,000 rubles ($6,600) for Glock 17 handguns and 191,000 rubles for Glock 26 models.
The sums offered by the defense ministry are more than 10 times the prices recommended by the manufacturer itself.
The potential scope for corruption in the procurement deal was brought to light last week by prominent Kremlin critic and blogger Alexei Navalny.
Rogozin admitted the amount being offered for the handguns was grossly inflated.
"The Glocks are clearly overpriced. I practice shooting myself and know that a handgun cannot cost $7,000, even if it is a small-series production," Rogozin said on his Twitter account.
© Sputnik
Comparing Strizh and Makarov Pistols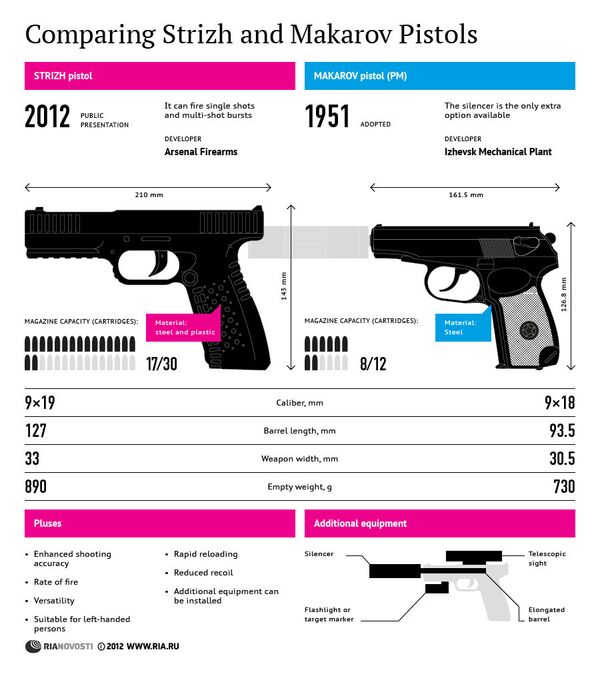 Comparing Strizh and Makarov Pistols
Rogozin, who oversees Russia's defense and space industry, said a probe had been opened to clarify the legitimacy of the order. He said results of the investigation will be available by the end of this week.
"I'll stay away from the investigation for now. When the report comes in, we will take appropriate measures," he said.
The deputy prime minister said Russian military personnel should be armed with handguns developed and manufactured domestically.
"As to a pistol 'massively' used by the army, it naturally should be developed and produced in Russia," Rogozin said in another tweet posted Monday.
"It could be either modernized and improved Gyurza and Yarygin, or Strizh or something else. But it has to be our own," he said.
© RIA Novosti/Avrora Ivan Chebotarev