WASHINGTON, October 22 (By Carl Schreck for RIA Novosti) – Amid federal budget wrangling, the United States has defunded a program financing academic research on Russia and the former Soviet bloc that scholars call crucial to building an understanding of the region among US officials and the American public, officials and academics said Tuesday.
"In this fiscal climate, it just didn't make it," a US State Department official told RIA Novosti on Tuesday of the State Department's "Title VIII" program, which provides grant money for research and language training focusing on Russia and the former Soviet bloc.
Rumors had been percolating in US academic circles this year that the State Department was planning to defund the program, which was established under a 1983 law signed by the late US President Ronald Reagan to promote the study of the Soviet Union and Eastern Europe.
But the State Department only informed organizations administering the grant money in early October – after the close of the fiscal year – that the program would not be funded, said Lynda Park, executive director of the Association for Slavic, East European and Eurasian Studies (ASEEES).
"I understand that the situation is bad, but this was still a major blow and sort of a shock to us because it came so late in the game," Park told RIA Novosti on Tuesday.
The program disbursed around $3.5 million in grant money in last year's cycle to fund doctoral dissertations, post-doctoral research and language training, among other activities, Park said.
© RIA Novosti
The number of US students completing a degree in Russian Studies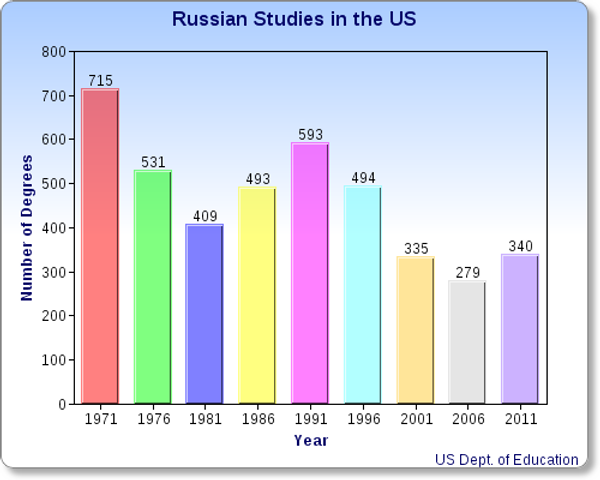 The number of US students completing a degree in Russian Studies
She called the sum a "drop in the bucket" for the federal budget but "quite huge for us," adding that the advanced research resulting from the funding constitutes a valuable return for US policy makers.
"It's also about language training for critical languages like Russian and languages in Central Asia," said Park, whose organization is a leading scholarly society in the field of Russian and Soviet bloc studies. "It is about building the expertise that's important for US national security."
The Title VIII program is administered by the State Department's Bureau of Intelligence and Research, a member of the US intelligence community that says its "primary mission is to harness intelligence to serve US diplomacy."
Programs suspended due to the program's defunding include research scholarships and competitions, travel grants, and intensive language study programs administered by a range of US-based public and private organizations, ASEEES said on its website Tuesday.
In addition to its impact on policymaking circles, Title VIII has been key to creating a "very strong cadre of professors" across the United States specializing in the study of Russia and the former Soviet bloc, said Laura Adams, director of the Program on Central Asia and the Caucasus at the Davis Center for Russian and Eurasian Studies at Harvard.
"There would be hardly any focus on this region of the world if there weren't any Title VIII money," Adams told RIA Novosti.
A sociologist by training, Adams added that she chose to pursue her interest in studying Uzbekistan in large part because she knew Title VIII funding would be available.
"That really motivated me to go to Uzbekistan, which the sociology department had never heard of," she said.
The State Department's confirmation of Title VIII's defunding to RIA Novosti on Tuesday follows the end of a partial, three-week government shutdown last week after months of battling between US President Barack Obama and Republican lawmakers who have demanded deep cuts in federal spending.
The State Department official, who spoke to RIA Novosti on condition of anonymity because she had not been authorized to speak publicly on the subject, said the decision to halt financing for the program was in line with other belt-tightening measures for the department, including travel restrictions for diplomats.
Title VIII is not a line item in the State Department budget and must be mandated every budget cycle, Adams wrote in an March analysis of the program's budgeting difficulties. Language in the 2012 congressional appropriation bill was tweaked to say that the State Department "may" fund the program rather than "shall" fund it, Adams noted.