VOLGOGRAD, October 23 (RIA Novosti) – The first funerals for the victims of a bomb blast on a bus near the south Russian city of Volgograd were held Wednesday as Russian officials continued their inquiry into the deadly suicide bombing.
The suspected female suicide bomber, identified as 30-year-old Naida Asiyalova, from Dagestan, blew herself up on the bus Monday, killing six. Some 50 people were also hurt, including 31 later hospitalized.
The funerals of two female victims, born in 1991 and 1993, were held Wednesday, the region's government said. More funerals are planned for Thursday, it said.
The police are still searching for the bomber's alleged associate in the attack, named by the authorities as her 21-year-old husband, Dmitry Sokolov, who has been missing for more than a year.
"His parents living in Moscow Region reported to the police that he had disappeared in summer 2012," Investigative Committee spokesman Vladimir Markin said on Wednesday.
According to his parents, Sokolov went to a mosque and never came back.
Sokolov allegedly met Asiyalova, who lived and worked in Moscow, three years earlier and both were interested in "radical Islam," Markin said.
© RIA Novosti
Countries with greatest risk of terrorism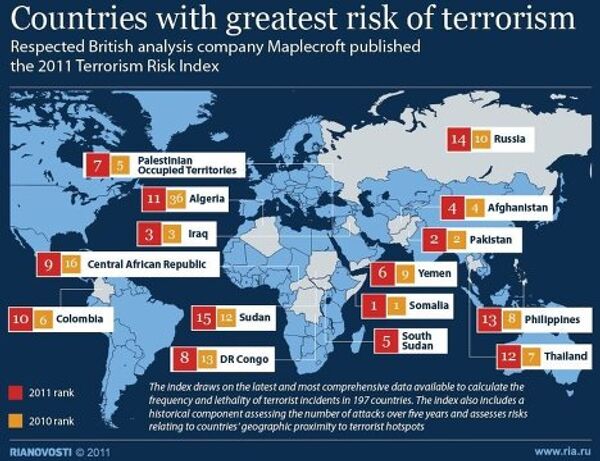 Countries with greatest risk of terrorism
Russia has suffered a long-running Islamist insurgency centered on the North Caucasus, especially in Dagestan where attacks on security forces, police and civilians occur regularly, generated by ethnic, religious and political rivalries, as well as poverty and corruption.
The insurgency was also fuelled by the post-Soviet separatist wars in the neighboring republic of Chechnya.
No group has yet claimed responsibility for Monday's attack.