MOSCOW, October 25 (RIA Novosti) – India's share in research-and-development work for the joint Fifth Generation Fighter Aircraft (FGFA) project with Russia is currently limited by India's domestic industrial capabilities but will gradually increase with the project's implementation, a Russian military expert said Friday.
India's The Economic Times newspaper reported on October 17 that Indian military officials were concerned over the country's work share in the FGFA project, which is currently only 15 percent even though New Delhi is bearing 50 percent of the cost.
According to the paper, India's defense minister is expected to raise that issue during his visit to Russia beginning November 15.
"The figure cited by the Indian side reflects current capabilities of India's industry, in particular the Hindustan Aeronautics Limited [HAL] corporation," said Igor Korotchenko, head of the Moscow-based Center for Analysis of Global Arms Trade.
"With the progress in the implementation of this project, we expect the Indian engineers and designers to approach the share determined in the [Russian-Indian] agreement: 50 percent," Korotchenko said in an exclusive interview with RIA Novosti.
Russia will certainly provide all necessary knowledge and logistics support to Indian specialists, but developing skills and acquiring experience in design and development of advanced fighter aircraft takes a long time and substantial effort, the expert added.
The FGFA project began following a Russian-Indian agreement on cooperation in the development and production of the perspective multirole fighter, signed on October 18, 2007.
The Indian fighter jet will be based on the Russian single-seat Sukhoi T-50 or PAK-FA fifth-generation fighter, which now has four prototypes flying, but it will be designed to meet about 50 specific requirements by the Indian Air Force (IAF).
In December 2010, Russian state arms exporter Rosoboronexport, India's Hindustan Aeronautics Limited and Russian aircraft maker Sukhoi Company signed a preliminary design development contract worth $295 million for the new aircraft.
© RIA Novosti
Russian Fith-Generation t-50 Fighter Jet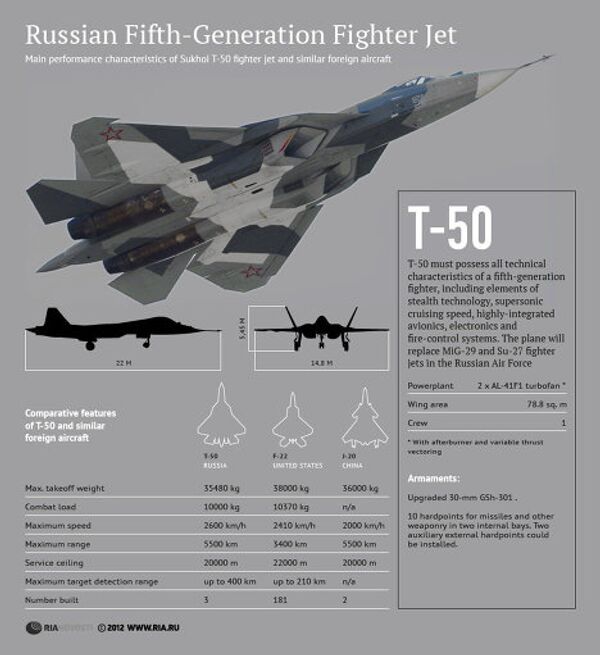 Russian Fith-Generation t-50 Fighter Jet
Currently the $11 billion final design and research-and-development contract is under negotiation between the two countries. The total program is expected to cost India about $25 billion to 30 billion.
The IAF had initially planned to order 166 single-seat and 48 twin-seat fighters, but India's chief of air staff said in October last year that New Delhi would now go for only 144 single-seat jets, with domestic production slated to begin in 2020.