MOSCOW, October 29 (RIA Novosti) – Two Russian Tupolev Tu-160 Blackjack strategic bombers on Monday flew from an airbase in southwestern Russia and landed in Venezuela, the Russian Defense Ministry said.
The nuclear-capable bombers, which took off from the Engels airbase in the Volga region, "flew over the Caribbean, the eastern Pacific and along the southwestern coast of the North American continent, and landed at Maiquetia airfield in Venezuela," the ministry said in a statement.
According to the Russian ministry, the bombers covered a distance of more than 10,000 kilometers (over 6,200 miles) during a 13-hour non-stop flight. Two NATO F-16 fighter jets were scrambled from Bodo airbase to monitor their flight near the Norwegian airspace.
The ministry said the current mission was carried out "in line with the program of combat training."
Russian strategic bombers conducted a similar mission in 2008. It was followed by a visit to Venezuela by a Russian naval task force, which took part in joint exercises with the Venezuelan navy.
The Tu-160 Blackjack is a supersonic, variable-geometry heavy bomber, designed to strike strategic targets with nuclear and conventional weapons deep in continental theatres of operation.
© Sputnik
Russian Tu-160 Blackjack strategic bomber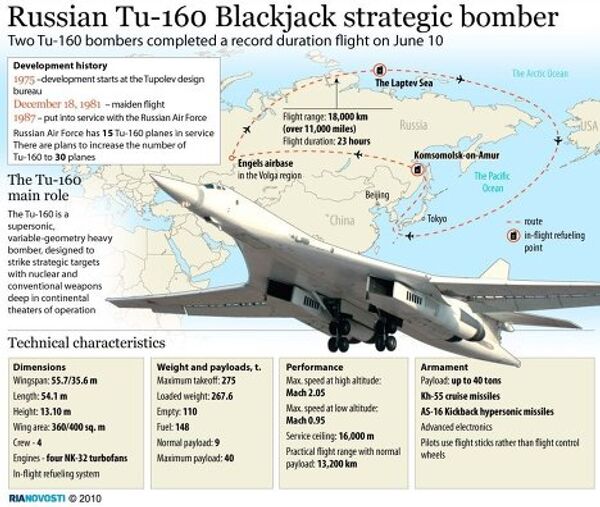 Russian Tu-160 Blackjack strategic bomber