KOSTROMA, October 29 (RIA Novosti) – A Russian rights organization that promoted public initiatives said Tuesday that it was suspending operations because it is unable to pay a $9,000 fine imposed for failing to register as a "foreign agent."
The NGO, based in the central Kostroma Region, said it was able to raise 100,000 rubles ($3,000) to pay a fine levied against its general director but was unable to pay another 300,000 ruble fine against the organization as a whole.
The Kostroma Public Initiatives Support Center's board chairman told RIA Novosti on Tuesday that the group was suspending its activities and would "liquidate" if it does not win an appeal currently pending with Russia's Constitutional Court.
The organization was the second NGO to be penalized under a law adopted last year to compel any group that receives funding from abroad and engages in political activities to register as a foreign agent.
Many rights groups have complained that the foreign agent term is misleading, conjuring up Cold War associations with espionage.
© RIA Novosti
What Changes Lie in Store for Non-Profit Organizations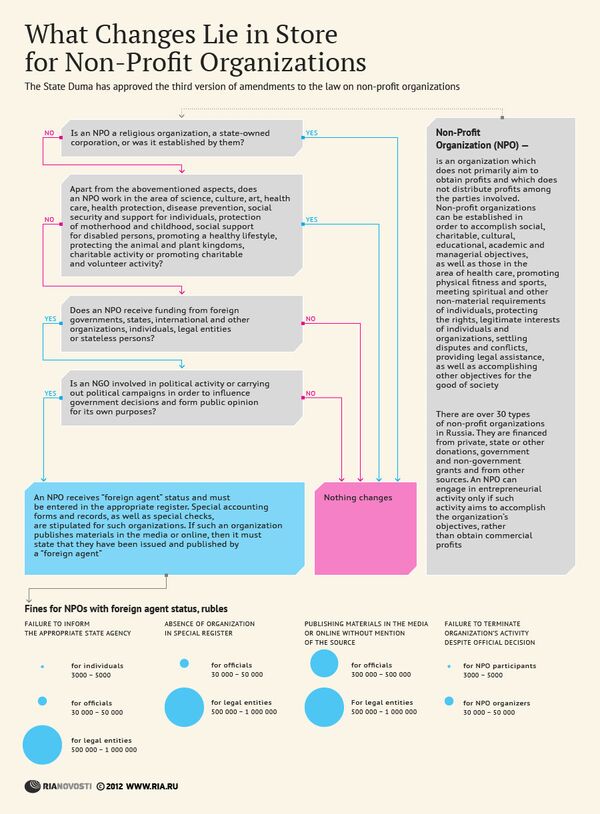 What Changes Lie in Store for Non-Profit Organizations