MOSCOW, October 29 (RIA Novosti) – A fifth flying prototype of Russia's future T-50 fighter jet has flown for the first time at a manufacturing plant in Russia's Far East, the Sukhoi aircraft maker said.
The 50-minute flight at the Gagarin factory in Komsomolsk-on-Amur has successfully tested the aircraft's overall performance, including its stability in the air and the work of its engines.
"The aircraft performed well in all phases of the planned flight program. The pilot confirmed reliability of all systems and equipment," Sukhoi said in a statement.
The T-50, which will be the core of Russia's future fighter fleet, is a fifth-generation multirole fighter aircraft featuring stealth and nano-technology, super-maneuverability, supercruise capability (supersonic flight without use of afterburner), and an advanced avionics suite including an X-band active phased-array radar, according to Sukhoi.
The preliminary testing program conducted by Sukhoi has so far involved six prototype airframes, including four flying, one static and one systems test airframe. More than 450 flights have been carried out to date under the program.
The four flying prototypes have already been transferred to the Zhukovsky airfield near Moscow prior to state flight tests, which are scheduled to begin in 2014. The aircraft is expected to enter service with the Russian Air Force in 2016.
© RIA Novosti
Russian Fith-Generation t-50 Fighter Jet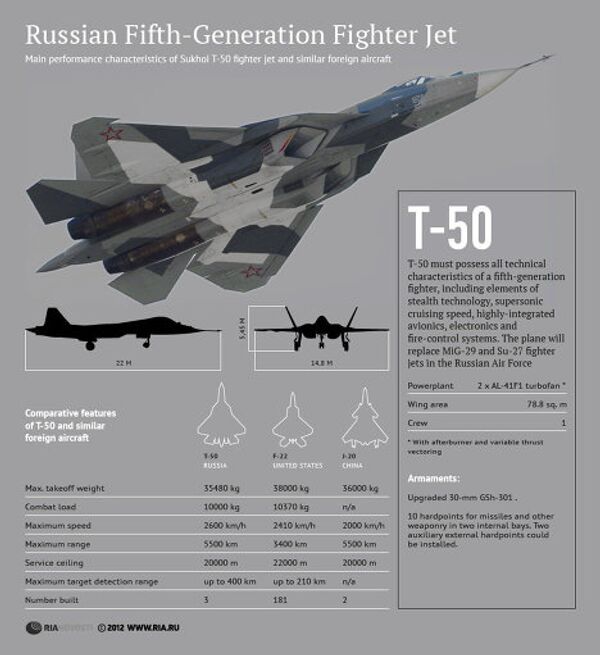 Russian Fith-Generation t-50 Fighter Jet
The T-50, also known as PAK-FA (future tactical fighter aircraft), first flew in January 2010 and was unveiled to the public at the MAKS air show near Moscow in 2011.