GORKI, October 29 (RIA Novosti) – Russia has piled the pressure on Ukraine with ominous warnings Tuesday that it could begin demanding upfront payment for natural gas deliveries unless outstanding debts are settled.
Calls for advance payments for gas by Russian Prime Minister Dmitry Medvedev come against the backdrop of persistent acrimony provoked by Ukraine's efforts to develop deeper economic and political ties with the European Union.
Gazprom chief executive Alexei Miller demanded an immediate resolution on the issue of Ukraine's unpaid August gas bill, which he said amounts to $882 million.
"The signal that we are in effect getting from our Ukrainian colleagues is that the situation with payment for gas from Ukraine is going to get worse," Miller told a government meeting presided by Medvedev.
Disputes over gas pricing between Russia and Ukraine in the winters of 2006 and 2009 led to Moscow temporarily halting deliveries not just to Ukraine, but also to some European countries.
Kiev says that Moscow charges it some of the highest prices for gas in Europe. Ukrainian Prime Minister Nikolai Azarov said last week that his country had paid Russia $20 billion over the last three years for gas supplies.
Talking to reporters on Tuesday, Azarov attempted to play down the urgency of the situation.
"There are problems, but they are not critical. The government has this issue under control," Azarov said.
That drew swift criticism from Medvedev.
"I fear that is too soft an assessment," Medvedev said. "There are problems and "they are entirely critical."
Difference over gas payment comprise only one strand of the differences currently pitting Moscow and Ukraine against one another.
Ukraine hopes to sign free trade and association agreements with the EU in late November, much to Russia's chagrin.
Moscow has unsuccessfully tried to have Kiev instead join the Customs Union of Russia, Belarus and Kazakhstan, hinting at economic sanctions and even cancellation of a visa-free regime with Ukraine in case of a EU deal.
A senior Russian official has warned that the EU agreements would be a "suicidal" step for Ukraine.
In a further indication of worsening tensions, Russia's border guard service has begun reinforcing its border with Ukraine with barbed wire. Ukrainian border guards denied that the work implied any imminent change in the visa regime, however.
Russian-Ukrainian bilateral trade turnover stood at $24.6 billion, or 4.5 percent of Russia's total foreign trade in the first eight months of 2013, according to Russia's Federal Customs Service.
Ukraine's trade with the EU and other European countries stood at $29 billion over the same period, according to official Ukrainian data.
Updates with details, quotes, background.
© RIA Novosti
Gas Conflicts Between Russia and Ukraine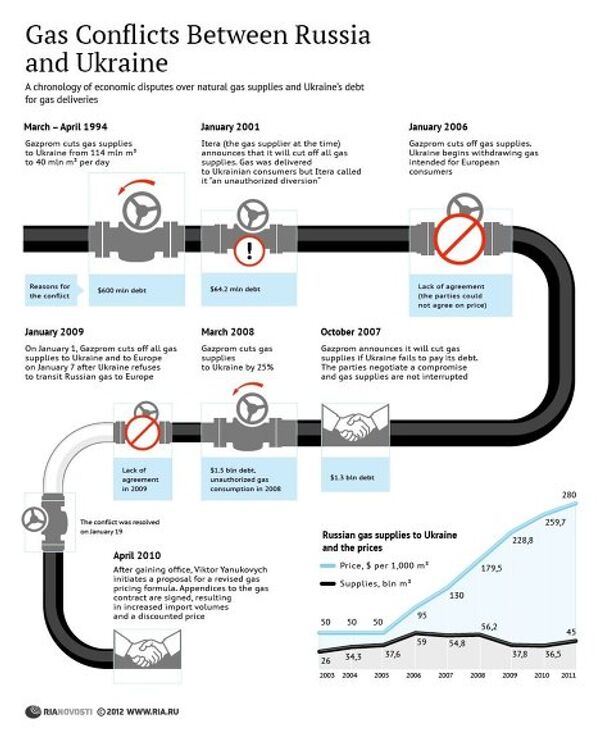 Gas Conflicts Between Russia and Ukraine