MOSCOW, October 31 (RIA Novosti) - Two Russian Tupolev Tu-160 Blackjack strategic bombers arrived in Nicaragua on Thursday after taking off from an airbase in Venezuela, the Russian Defense Ministry said.
The nuclear-capable bombers "flew above the neutral waters of the Caribbean Sea, entered the airspace of Nicaragua and performed a planned landing," the ministry said.
The aircraft covered over 2,500 km during their three-hour flight from the Maiquetia airfield in Venezuela.
Earlier this week, the two bombers took off from the Engels airbase in the Volga region and covered a distance of more than 10,000 kilometers (over 6,200 miles) during a 13-hour non-stop flight to Venezuela.
The ministry said the current mission was carried out "in line with the program of combat training" and corresponded to all international norms.
© Sputnik
Russian Tu-160 Blackjack strategic bomber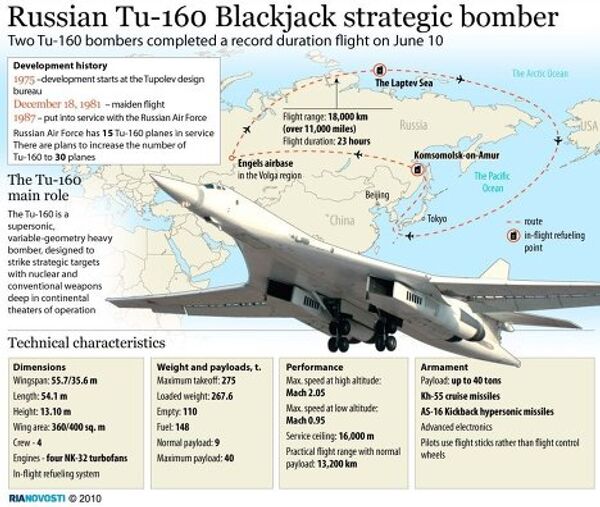 Russian Tu-160 Blackjack strategic bomber
Russian strategic bombers conducted a similar mission in 2008. It was followed by a visit to Venezuela by a Russian naval task force, which took part in joint exercises with the Venezuelan navy.
The Tu-160 Blackjack is a supersonic, variable-geometry heavy bomber, designed to strike strategic targets with nuclear and conventional weapons deep in continental theatres of operation.