GENEVA, November 9 (RIA Novosti) – US State Secretary John Kerry opposed a draft deal on Iran's nuclear program during high-profile talks in Geneva, a source at the negotiations told RIA Novosti on Saturday.
Kerry held a snap meeting late Friday with representatives of Iran and the 5+1 group of international negotiators, which includes lower-ranking US diplomats.
Iran and the 5+1, which also comprises Russia, Britain, China, France and Germany, earlier drafted a step-by-step deal to lift sanctions against Tehran in exchange for a partial freeze of the Iranian nuclear program.
Kerry was to discuss the matter further on Saturday with EU foreign policy chief Catherine Ashton and his Russian counterpart Sergei Lavrov.
The talks in Geneva were expected to break the lengthy stalemate on Iran's nuclear program, whose peaceful nature is questioned by Western powers and Israel.
But the head of the French Foreign Ministry, Laurent Fabius, said Saturday that the Geneva talks may not end in a deal.
Iranian diplomats said earlier Tehran was ready for another round of talks in case the ongoing meeting yields no result.
© RIA Novosti
Peaceful Nuclear Energy or Nuclear Weapons?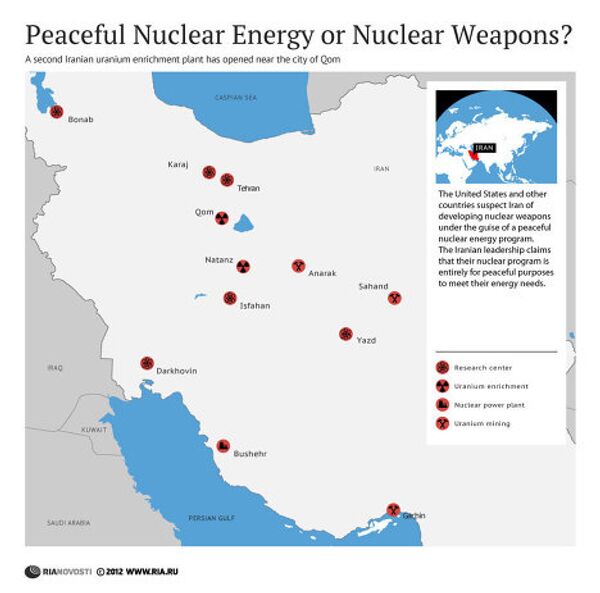 Peaceful Nuclear Energy or Nuclear Weapons?
Iran proposed last month to stop enriching uranium to 20 percent in exchange for lifting of sanctions starting with its banking industry and oil exports.