ST. PETERSBURG, November 13 (RIA Novosti) – The Russian Navy has postponed any further trials of the troubled submarine-launched Bulava ballistic missile until 2014, Navy Commander Adm. Viktor Chirkov said Wednesday.
"All plans have been moved to next year in accordance with the schedule of state trials," Chirkov said at a conference on prospects for military shipbuilding until 2050.
Ivan Kharchenko, a first deputy chairman of the Russian Military-Industrial Commission, had said in mid-September that new test launches of would start later this year.
© RIA Novosti
Timeline of Bulava Missile Launches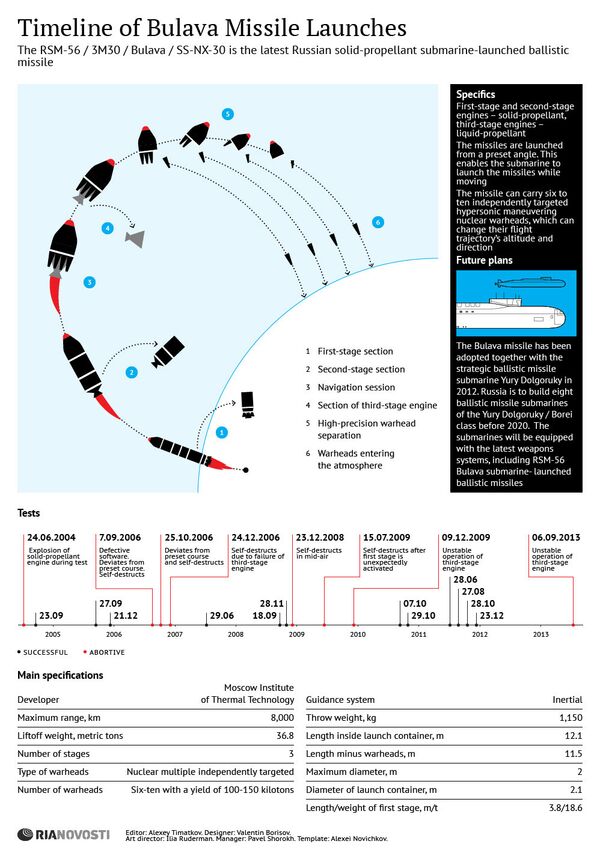 Timeline of Bulava Missile Launches
With that failure, eight of 19 or 20 test launches of the Bulava have officially been declared unsuccessful. Some analysts suggest the real number of failures may be considerably higher, however.
The three-stage Bulava SLBM carries up to 10 MIRV warheads and has a range of 8,000 kilometers (5,000 miles).
Despite the test failures officially blamed on manufacturing faults, the Russian military has insisted that there is no alternative to the Bulava as the main armament for Russia's new Borey-class strategic submarines.
The first Borey-class submarine, the Yury Dolgoruky, was commissioned into the Northern Fleet in January.