LISTVYANKA, Russia, November 23 (R-Sport) - The Sochi 2014 Olympic flame was taken on an underwater relay Saturday as the Winter Games torch relay reached Lake Baikal in Russia's Far East.
Nikolai Rybachenko, a local lifeguard, had an water-resistant flare attached to his torch and plunged into the icy water of the world's largest freshwater lake, located more than 5,000 kilometers east of Moscow.
Still under the surface, Rybachenko handed the torch off to Yekaterina Andreeva, a famous news anchor, who in turn passed it on to the deputy head of the Sochi 2014 organizing committee Alexander Vronsky.
The underwater mini-relay comes two weeks after the torch made a historic spacewalk from the international space station, and a month after it was taken to the North Pole, other side projects designed to showcase Russia's might.
Lake Baikal, the world's seventh largest lake by surface area, is thought to date back at least 25 million years, making it also the oldest. It is also the deepest lake on the planet, though it is not known if the maximum recorded depth of 1,600 meters is as deep as it gets.
© RIA Novosti
Sochi 2014 Olympic Torch Relay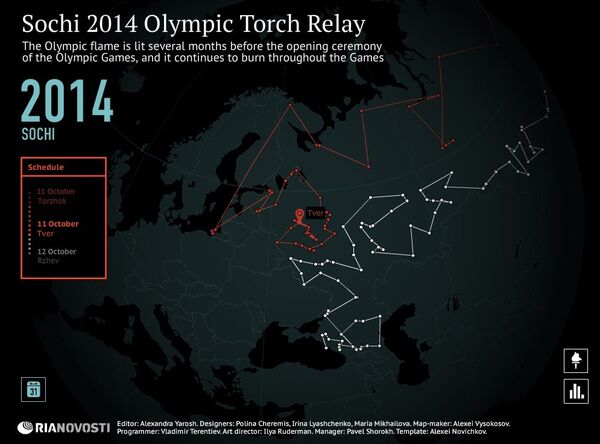 Sochi 2014 Olympic Torch Relay
The banana-shaped body of water stretches 636 kilometers from tip to tip, about the same distance as London to Frankfurt.
The torch relay for the February 7-23 Games started on the Red Square in Moscow on October 7. It is to take in all of Russia's 83 regions on its 56,000-kilometer trip.